25 April 2023
New public lecture series
Career Tips from Successful Managers
First talk by hockey player and entrepreneur Janne Müller-Wieland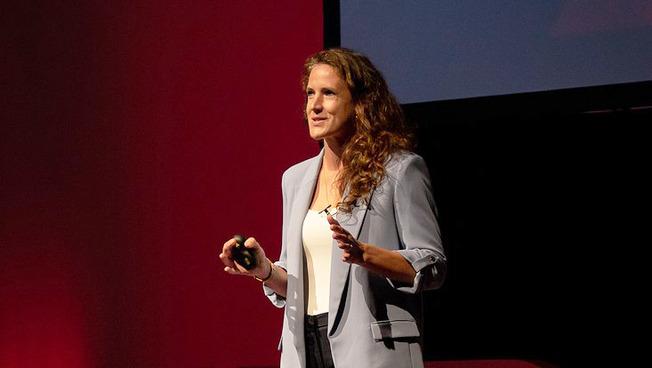 Photo: Felix Stroh
Entrepreneur, hockey player, Universität Hamburg alumna Janne Müller-Wieland will give the first talk.
Leadership should reflect a society's diversity. As role models, they have the potential to challenge outmoded ideas of leadership. In the lecture series New Ways in Leadership hosted by the Faculty of Business Administration (Hamburg Business School) at Universität Hamburg, successful entrepreneurs talk about their own leadership concepts. The series began on 28 April 2023 with hockey player and marketing expert Janne Müller-Wieland.
Janne Müller-Wieland is one of Germany's most successful hockey players. As an athlete, she has won, among other distinctions, the World and European Championships as well as an Olympic bronze medal in Rio 2016. From 2008 to 2010, she did her bachelor's in business administration at Universität Hamburg and is now a successful entrepreneur.
In the first talk of New Ways in Leadership, she spoke about her leadership motives in the company she co-founded, her international experiences, and her tips, as both an entrepreneur and top athlete, for tapping into the potential of a team and its members.
The opening talk took place on 28 April 2023 at 12 noon in the west wing of the Main Building (Edmund-Siemers-Allee 1, Room 221). The series is open to the public and there is always time for discussion at the end. No registration required.
New Ways in Leadership was organized by Prof. Dr. Petra Steinorth, professor of risk management and insurance, and Prof. Dr. Michel Clement, professor of business administration. Both support the office of the dean for the Faculty of Business Administration (Hamburg Business School) in equal opportunity and knowledge exchange matters. The series is funded by the Federal Ministry for Economic Affairs and Climate Action as part of the EXIST program.