27 March 2023
Corona archive—3 years
Telling Your Own Pandemic Story: Seeking Curators for Online Exhibition!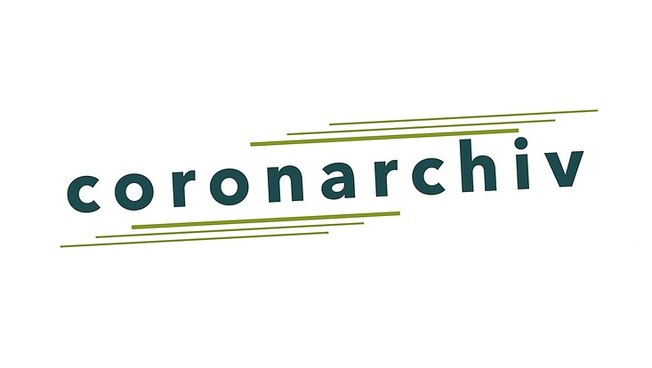 Photo: "coronarchiv"
Corona archive logo
While the corona pandemic affected everyone, the experiences of it were highly individual, to which the corona archive set up by researchers at Universität Hamburg 3 years ago attests. The online archive contains testimonials from the beginning of the pandemic and now the initiators are seeking ideas for an online exhibition.
The corona archive is the world's largest digital collection of testimonials documenting everyday life during the pandemic. Whether texts, photos, audio recordings, or videos: the initiators are putting out the call and everyone is invited to contribute their personal story to the archive. For the online exhibition, the corona archive is also seeking curators: everyone is welcome to develop exhibition ideas on the basis of the submissions or their own pandemic keepsakes. You can submit suggestions until 14 May 2023 at ausstellung"AT"coronarchiv.de.
This joint project by Universität Hamburg, Ruhr Universität Bochum, and the University of Giessen gives the public an opportunity to record and present their experiences of a challenging time.
Since the outbreak of the pandemic in Spring 2020, more than 6,000 stories have been submitted, giving insight into the various phases of the corona pandemic. The collection covers the process from the first lockdown to the lifting of restrictions and re-openings starting in 2022.
Online exhibition with the best ideas
"We will invite the authors of the 3 best ideas to a workshop where they can realize their exhibitions under professional guidance," says co-founder Prof. Dr. Thorsten Logge, professor of public history at Universität Hamburg. As part of the workshop, the participants will be shown how to design online exhibitions and receive the necessary technical support. The finished exhibition projects will be published on the corona archive website and, along with the entire archive, stored long term. The personal pandemic stories of the people involved can allow future historians to see how the pandemic was experienced by different people and to draw conclusions.
With this project, the corona archive hopes to illuminate the course of the pandemic from different perspectives and to contribute to a more comprehensive portrait of the social impact of the corona era. The coordinator of the Public History research group, Nils Steffen, says: "The online exhibitions provide a platform for the personal stories and experiences during this significant period that can now finally become visible."
The project is being funded by the Landeszentrale für politische Bildung Hamburg See www.coronarchiv.de for more information or contact Prof. Dr. Thorsten Logge's team at ausstellung"AT"coronarchiv.de.