7 March 2023
Multimedia exhibition How It All Began
Journey to the Big Bang extended to 7 May 2023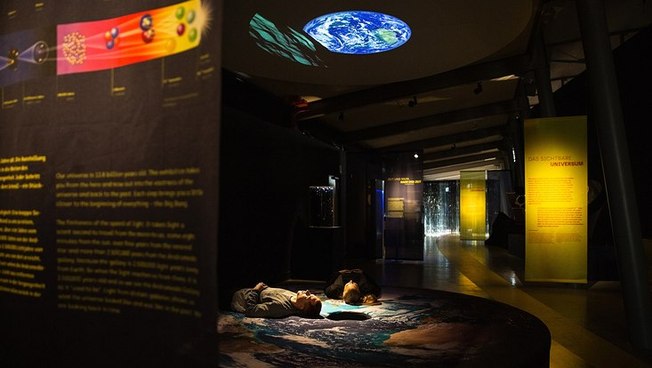 Photo: UHH/Esfandiari
A glance at the exhibition How It All Began
The interactive exhibition How It All Began: Of Galaxies, Quarks, and Collisions at the Museum of Work provides interesting insight into the latest scientific findings in particle physics, astro-particle physics, and cosmology. The exhibition is now being extended until 7 May 2023. The extensive fringe program invites you to an art exhibition in which artists and researchers share their own perspectives on the Universe.
Visitors to the exhibition will find several thematic stations with exciting insights into the development of our Universe. This unique joint project between Universität Hamburg, the cluster of excellence Quantum Universe, DESY, and the Museum of Work is also making the latest findings in cutting-edge research in Hamburg visible and tangible.
A special feature of the exhibition is the work of 5 Hamburg artists who grapple with the endlessness of space, research on the Big Bang, and our ideas about them from an artistic perspective.
On 28 March 2023 at 7 pm, there will be a reception at which the artists Marcel Große, Tanja Hehmann, Jan Köchermann, Julia Münstermann, and Jana Schumacher meet in line with the motto Close Encounters—Art Meets Science, alongside the art historian Belinda Grace Gardner and the elementary particle physicist Christian Schwanenberger to discuss their methods and their way into the history of the Universe.
See the exhibition pages for more information and the entire fringe program. Press images at www.shmh.de/presse/ (username: press, password: SHMH)
How It All Began: Of Galaxies, Quarks, and Collisions is funded by the Joachim Herz Stiftung and the Ministry of Science, Research and Equalities.