24 October 2022
Colorful program and free admission on Reformation Day
Two Collections and the University Museum Are Taking Part in #seeforfree 2022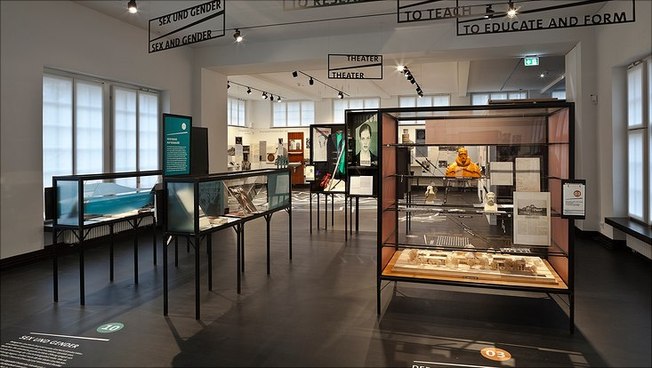 Photo: Universität Hamburg / Plessing / Scheiblich
The University Museum exhibition is one the Universität Hamburg offerings that can be visited on 31 October as part of the #seeforfree initiative.
On 31 October, you can once again visit and discover more than 30 Hamburg museums free of charge. This year, the University Museum, the Computer Museum, and the Plaster Cast Collection of the Archaeological Institute will be taking part, offering a varied program.
This Reformation Day, anyone interested in exploring Hamburg's museums free of charge will have the opportunity to do so once again—and Universität Hamburg will also be there. To take part, visitors can drop by 3 locations.
At the University Museum (Edmund-Siemers-Allee 1), we will be offering tours in German and English throughout the day on various topics, such as the toppling of the colonial Wissmann monument. In addition, a temporary history lab on Hamburg music history will be open from 10 am to 6 pm, serving as an academic workshop for the collection of historical sources from the public. Here, visitors can contribute their personal memories of the Hamburg music scene in the 1970s and 1980s.
On the main campus at Von-Melle-Park, the Plaster Cast Collection (Grindelallee 34, entrance at the back of the building) will open its doors. It comprises around 180 plaster casts of ancient sculptures, reliefs, portraits, and craftwork. From 11 am to 4 pm, visitors will get answers to questions like "Who were the Amazons?" and "What sports were popular in ancient Greece?" during short guided tours in German and English. In addition, children will have the opportunity to paint pieces of plaster themselves.
In Stellingen, visitors will be able to go on a journey through time with computers at the Computer Museum (Vogt-Kölln-Strasse 30, house C). Guided tours (90 minutes) at 11 am, 1:30 pm, and 3:30 pm will offer an exciting glimpse behind the scenes of the museum, which documents the beginnings of hardware and supercomputers among other things. From 10 am to 5 pm, visitors will be able to view the many exhibits—from home and workstation systems to heavy and tiny portable computers. Many devices will be demonstrated live.
Find the entire 2022 #seeforfree program and more information about Universität Hamburg's offers at www.seeforfree.de.