4 October 2022
Free and open to the public
Public lectures at Universität Hamburg started on 17 October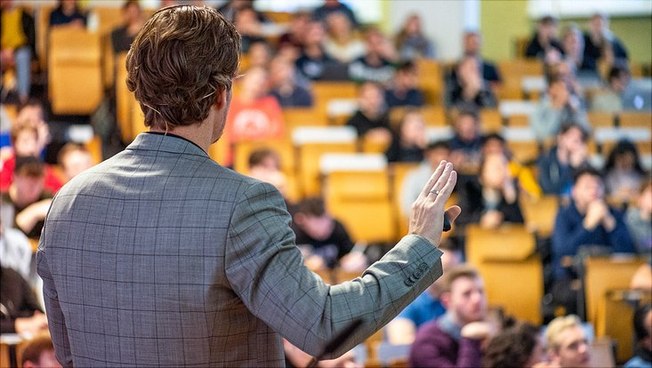 Photo: UHH/vonWieding
The General Lecture Series offers roughly 160 public lectures on current topics in science and academia.
If you are interested in science, research, politics, culture, and society, check out the General Lecture Series at Universität Hamburg. In Winter Semester 2022/2023, Universität Hamburg offers roughly 160 public lectures on various topics. The lectures begin on 17 October 2022 and end February 2023.
The range of topics includes lectures on current issues and perspectives—for example, the series on adapting to climate change in the city, the countryside, and on the coasts; the Cluster of Excellence Climate, Climatic Change, and Society (CLICCS) at Universität Hamburg will present it's interdisciplinary climate research findings.
The lecture series on migration, exile, and taking flight and the lecture series on peace-building look at the historical background and sociopolitical consequences of the current political situation.
There are 3 series dedicated to religion: The Bonum iter lecture series looks at the connection between travel, religions, and interconfessionality. The series on places of religion in Turkey looks at houses of prayer and religious diversity. And the lecture series that asks "Why religion?" investigates theology in secular modernity.
Lectures on theater and performance provide insight into Hamburg's theater scene. Lectures on yoga look at interdisciplinary research in various areas of yoga studies. And the Liberal Arts and Sciences series makes interdisciplinary work and thought palpable.
A lecture series on being human looks at the relationship between psychological health and illness.
For lectures on the advance of digitalization in society, you can attend the series on modern methods in technomathematics or Taming the Machines. The lecture "Interactional and Computational Approaches to Informal Language Online" looks at informal online language.
Events generally take place in the evening. Lectures target a lay audience. You can attend individual lectures or entire lecture series. In Winter Semester 2022/2023, Universität Hamburg is holding primarily in-person classes. It has developed a multi-staged plan as part of its protection concept against the backdrop of the current pandemic situation. Consult the web pages in advance for information about how courses and talks will be offered and current regulations.
Comprehensive program on the homepage of the Center for Continuing Education at:
www.zfw.uni-hamburg.de/oeffentliche-vortraege.html
There you can find tips on lecture formats, information about attending and/or logging in, and, if applicable, short-term changes to the program.
More information and program subscription:
Daniela Krückel
Universität Hamburg
Center for Continuing Education (ZfW)
daniela.krueckel"AT"uni-hamburg.de
www.zfw.uni-hamburg.de/av-programm