4 July 2022
The Hamburg Forum for Global Science and Policy: What is Academia's Responsibility in Times of Complex Crises?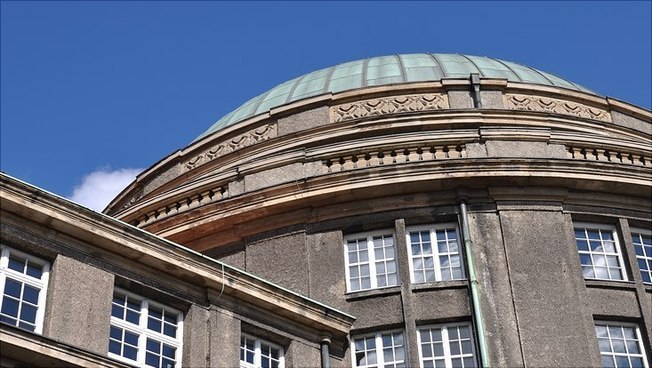 Photo: Universität Hamburg / Schell
The Universität Hamburg Main Building
Most recently, the outbreak of war in Ukraine has made it clear that geopolitical changes and international crises fundamentally affect global academic systems, activity at universities, research institutions, and academic policy. While the war's direct practical implications and those for academic policy have already been discussed elsewhere, Universität Hamburg would like to widen the view with a new strategy conference and discuss aspects of the mid-and long-term academic system in an age of complex crises, as well as possible new competing systems. It thereby also wishes to make a visible international contribution to future discussions on academia and university policy.
For the first event on complex crises in the global academic system, hosted by the new Hamburg Forum for Global Science and Policy, the following participants engaged in discussion at the MARKK—Museum am Rothenbaum on Monday, 4 July: Dr. Jens Brandenburg, parliamentary secretary with the Federal Ministry of Education and Research , Katharina Fegebank, second mayor of Hamburg and senator with the Ministry of Science, Research, Equalities and Districts, Prof. Dr. Dr. Sabine Kunst, chair of the Joachim Herz Stiftung, Prof. Dr. Ursula Schröder, scientific director of the Institute for Peace Research and Security Policy (IFSH) at Universität Hamburg, and Dr. Georg Schütte, secretary general of the VolkswagenStiftung with representatives of universities, academic institutions, foundations, and policymakers.
Prof. Manuel Hartung, chair of the ZEIT-Stiftung, moderated the event, at which the following questions, among others, were discussed:  What is the purpose of international cooperation and under what conditions should international cooperation be terminated? Are sanctions helpful only if academia is involved and how are they to be reconciled with the maxims of academic freedom? Which academic systems and forms of interdisciplinary and/or other boundary-crossing cooperation are suitable for taking a multi-perspective view of interdependencies in the current climate of crisis, whether the issue is war, global resources, the energy crisis, or the consequences of climate change? What expertise and what kind of risk management do we need at universities and what knowledge do we need to consolidate? What are the consequences and needs with regard to infrastructure and focal points in academic policy and research funding?
Univ.-Prof. Dr. Hauke Heekeren, president of Universität Hamburg: "The Russian war of aggression in Ukraine and its effects on international cooperation are forcing us to fundamentally question current forms of scientific cooperation with countries that do not share our free and democratic order. Our task as universities is to open up discussion and exchange, creating space for these and other questions in a scientifically sound context. To do so, we are bringing together experts, academic institutions, policymakers, and societal actors to reflect upon, with an understanding of the complexity involved, the great challenges of our time and to jointly seek solutions. Academia can and wants to be a sparring partner as much as it seeks to inspire informed decisions in the arenas of politics and society."
The evening was hosted by Universität Hamburg in cooperation with the Institute for Peace Research and Security Policy (IFSH) at Universität Hamburg and the Hamburg Institute for Advanced Study (HIAS). The Hamburg Forum for Global Science and Policy is one of the University's international strategy conferences, financed with funds from the Excellence Strategy of the Federal and State Governments.
PR photos of the panelists can be downloaded. Event photos can be downloaded starting from Tuesday, 5 July.