2 June 2022
Occupying and damaging University property
The University's position on the occupation of Audimax II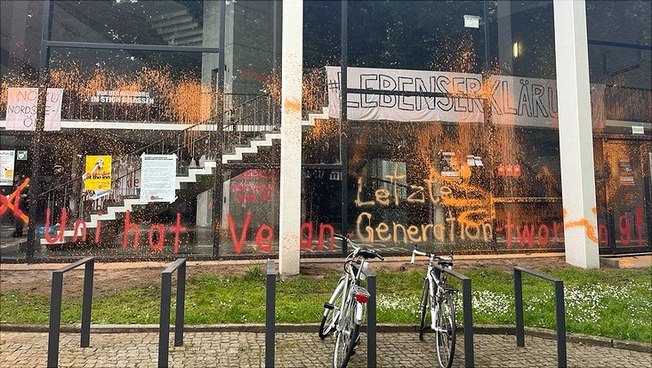 Photo: UHH
The Audimax
Since Monday, 30 May 2022, Last Generation activists have been occupying the University's Audimax II on the Von-Melle Campus.
On Wednesday evening, the president of Universität Hamburg, Univ.-Prof. Dr. Hauke Heekeren, met directly with activists occupying the Audimax. In the one-hour discussion, participants clarified their views. Despite repeated calls to do so, the group did not clear the rooms for regular teaching activities.
On Thursday afternoon, the group caused large-scale damage. The facade, windows, and interiors of the protected building were defaced with spray paint.
In light of this, Univ.-Prof. Dr. Hauke Heekeren stated that "the University Management condems this large-scale property damage. We have notified the supervising bodies and authorities, who are now coordinating further measures. We remind you that university spaces are places of peaceful academic and public discourse. They are not places for vandalism or violence. Due to the large-scale damage, we cannot currently say when teaching activities can resume in the building."
Climate protection and sustainability are important to Universität Hamburg, for example in its climate research efforts and the development of a University climate protection plan. Researchers at Universität Hamburg who work on climate protection engage in exchange with national and international committees that, among other things, consult for the federal government. "It is not an independent university's responsibility, however, to make federal policy demands or to support them," says Heekeren.
Universität Hamburg's student council (AStA) said: "Climate protection is important and advocacy must be effective in terms of publicity in order to reach everyone and make the drastic nature of the situation clear. We continue to rely on cooperation and convesation."