20 May 2022
Study with temporarily blind subjects
Early childhood experiences may lead to irreversible changes in the brain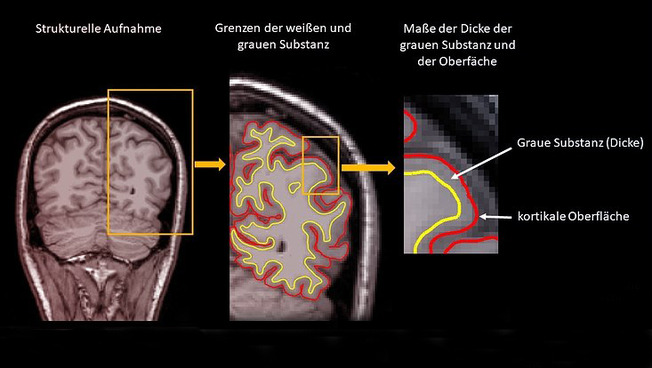 Photo: UHH
MR images of a brain
Changes in the brain caused by early childhood experiences are not entirely irreversible. This is the conclusion reached in a recent study by researchers at Universität Hamburg, led by the psychologist and neuroscientist Prof. Dr. Brigitte Röder.
Earlier neuroscientific studies have revealed that unfavorable experiences in the first few months and years of life, for example blindness or poverty, can adversely affect the structural development of the human brain. Until now, however, it was not clear whether brain structure can heal if the causes of impairment are eliminated. New findings, now published in the journal Cerebral Cortex, show that, at least with regard to the development of those parts of the brain responsible for vision, changes in brain structure persist long-term.
3D models of the brain
For the study, a research team in biological psychology and neuropsychology collaborated with the LV Prasad Eye Institute in Hyderabad, India to study people who were in some cases blind for many years after birth due to cataracts in both eyes and to whom operations successfully restored sight.  Using MRI, images of the brain were made for all subjects, who were between 6 and 36 years old at the time of the study. Subsequently, 3D models were created for the brain of each subject, enabling the researchers to measure the thickness and size of the visual cortex.
The visual cortex is the outermost, multilayered layer of the brain. It is several millimeters thick and it consists primarily of nerve cells, or "gray matter." Thanks to its many folds, the cortex has a large surface area, providing space for billions of nerve cell bodies that are responsible for the processing of sensory information and thus for the development of perception. In normal development, the cortex begins to thin out after the first and second years of life, while surface area increases throughout puberty. Both structural changes are important for the complete maturation of neural networks.
Changes in the visual cortex
The research team discovered that in previously blind subjects, the visual cortex,  or the part of the cortex that processes visual information, had both less surface area and was thicker. The visual cortex was more similar to that of people who were permanently blind since birth than it was to those with sight from birth. Furthermore, the extent of changes to the visual cortex predicted how well people learned to see after cataracts were removed.
"The study shows that early childhood experiences can change brain structure long-term and, apparently, irreversibly," says Dr. Cordula Hölig, author of the study and a researcher at Universität Hamburg. "Even if we looked only at the impact of lack of sight, we suspect that other extreme early childhood experiences, for example those associated with poverty and neglect, could lead to irreparable damage to brain structure."
Original publication:
Hölig, C., Guerreiro, M.J.S., Lingareddy, S., Kekunnaya, R., & Röder, B. (2022). Sight restoration in congenitally blind humans does not restore visual brain structure. Cerebral Cortex, DOI: 10.1093/cercor/bhac197