30 March 2022
Free and open to the public
Public lectures at Universität Hamburg begin on 4 April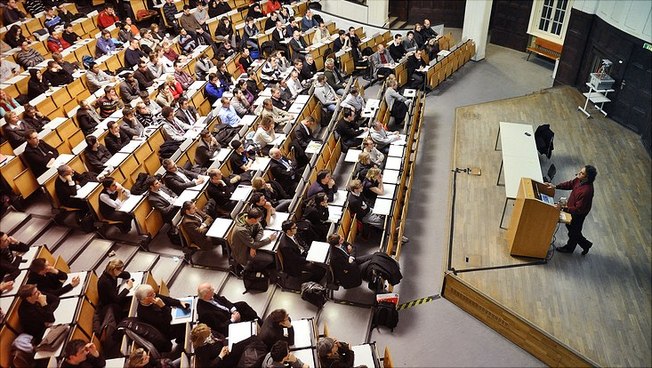 Photo: Universität Hamburg / Schell
Around 70 public lectures are on offer in Summer Semester.
If you are interested in science, research, politics, culture, and society, check out the General Lecture Series at Universität Hamburg. In Summer Semester 2022, the program includes roughly 70 public lectures on different topics. The lectures begin on 4 April and end in July 2022.
In Summer Semester 2022, the topics cover current issues and perspectives, for example, there will be a series on democracy and civil society in Southeast Asia and another on the language philosophy of hate speech and political rhetoric, both of which focus on socio-political matters.
The lecture series on the liberal arts and sciences will look at interdisciplinary work and thought on current science and societal topics. And the lecture series on the soul in a changing society will focus on a topic that preoccupies many people today. For lectures on the advance of digitalization in society, you can attend the series on mathematics software in teacher training or one titled "Taming the Machines."
Events generally take place in the evening. For Summer Semester 2022, Universität Hamburg is planning both in-person and online lectures. See the Internet in advance to find out about lecture formats. Lectures are designed for the lay public and can be booked individually or as a series.
The program is published on the homepage of the Center for Continuing Education (ZfW) at Universität Hamburg.
https://www.zfw.uni-hamburg.de/oeffentliche-vortraege.html
There you can find tips on lecture formats, information about attending and/or logging in, and, if applicable, short-term changes to the program. For a small fee, you can also subscribe to a print program.
More information and program subscription:
Daniela Krückel
Universität Hamburg
Center for Continuing Education (ZfW)
daniela.krueckel"AT"uni-hamburg.de
www.zfw.uni-hamburg.de/av-programm