20 November 2020
The research team simulated various lock-down scenarios intended to protect public health and the economy
Simulations Strengthen Greater Protection for High-Risk Groups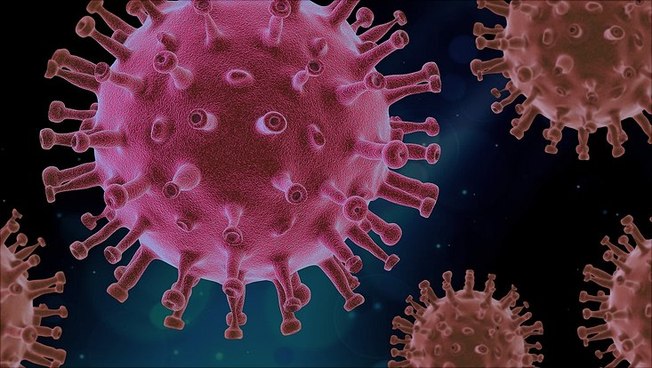 Photo: Pixabay
Symbolic representation of the coronavirus
Contact restrictions for particular age and high-risk groups can keep mortality rates and economic costs low during the corona pandemic according to findings by researchers at the Hamburg Center for Health Economics (HCHE) under the aegis of Prof. Dr. Martin Spindler. On the basis of epidemiological data, the researchers simulated the effects of various corona measures with a focus on the health and economic consequences of the pandemic.
"A purposeful lock-down that focuses especially on contact with the elderly population facilitates a large reduction in mortality and, at the same time, slight economic consequences," says Prof. Dr. Martin Spindler, co-author of the study and professor of statistics at the University's Faculty of Business. While this makes it possible to protect especially vulnerable people, the restrictions for the young and middle-aged population can be kept to a minimum. In this way, daily work-life remains virtually unaffected.
A combination of various measures can also prevent too strongly shielding especially vulnerable groups. For example, comprehensive testing, effective contact tracing (for example, using a tracing app), distancing, and well-developed infrastructure with regard to working from home can result in the lowest health and economic burdens for Germany.
Targeted protection of highly vulnerable population groups can be of double benefit: in addition to protecting them from infection, less vulnerable groups can continue to work. The gains made from this can be used to provide support services. Among other things, a shopping service or increased testing capacities for high-risk patients would be conceivable.
In a recently published working paper, the team showed how mortality and economic costs develop under various lock-down measures. Detailed computer simulations enable the researchers to represent the various degrees of severity characteristic of COVID-19 by age group. By taking into account the different ways the disease might develop, the researchers could make exact prognoses for the course of the pandemic under potential governmental measures.
Looking at the economic effects at the same time, the team could evaluate measures that lead to the same mortality rates for economic consequences. This makes it possible to provide politicians and other decision-makers with concrete proposals for dealing with the corona pandemic based on realistic data.
Download the study at https://arxiv.org/abs/2011.01092.
About the Hamburg Center for Health Economics (HCHE)
The HCHE is a joint research center of Universität Hamburg and the University Medical Center Hamburg-Eppendorf. Over 80 researchers are studying relevant and current topics in the German health system. Their research activities focus on the financing of the health system, health-economic evaluation, pharmaceutical markets, outpatient and inpatient health care, big data, digital health, and public health.