11 April 2018
€2.5 million for new quantum computer concept
Physics professor at Universität Hamburg recognized by European Research Council (ERC) for third time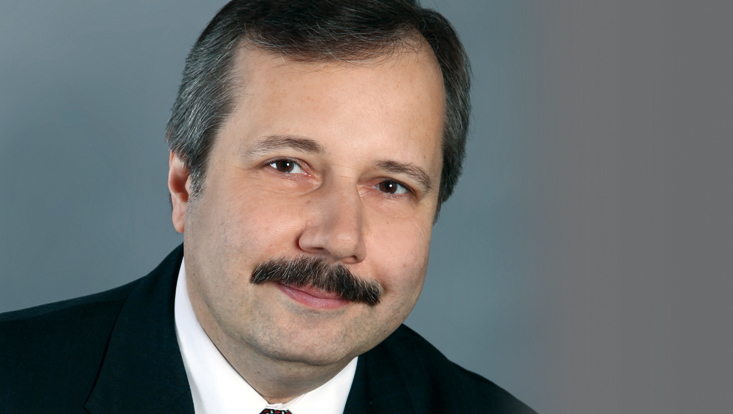 Photo: Private
Nanoscientist Prof. Dr. Roland Wiesendanger has received an ERC Advanced Grant for the third time.
For the third consecutive year the ERC has granted Prof. Roland Wiesendanger, head of the Scanning Probe Methods Group in the Department of Physics at Universität Hamburg, a €2.5 million ERC Advanced Grant.
The ERC research project ADMIRE: Atomic-Scale Design of Majorana States and their Innovative Realspace Exploration investigates new concepts for a quantum computer on the basis of magnetic atom chains, deposited on superconducting substrates, and new kinds of particles known as Majorana particles, fermions that are their own antiparticles. Quantum computers would not only be more powerful than standard computers; they would also open up completely new possibilities in encryption technology and bug-proof communication. This new research was made possible by the unique expertise of Prof. Wiesendanger's research group in the fabrication of quantum structures with atomic-scale precision combined with advanced characterization methods for revealing structural, magnetic, and superconducting properties down to the atomic level.
Since 2009 Wiesendanger has received ERC grants for 2 projects: FURORE: FUndamental studies and innovative appROaches of REsearch on magnetism and ASTONISH: Atomic-scale STudies Of the Nature of and conditions for Inducing Superconductivity at High-temperatures focused on magnetism at atomic and molecular scales as well as on super-conductivity at high temperatures. Wiesendanger's research group will spend 5 years on the new ERC project ADMIRE. Work is scheduled to being on 1 January 2019. The ERC funding will directly benefit 7 new doctoral and early career researchers.
The ERC program supports leading scientists and scholars in Europe in their pursuit of exceptional and visionary research. Highly innovative projects in the field of basic research and applicants with outstanding scientific reputations are most likely to succeed in the competition for six-figure funding.
Prof. Dr. Dieter Lenzen, the University's president, congratulated Wiesendanger: "I would like to congratulate Prof. Wiesendanger on this truly remarkable achievement. Rarely has someone received 3 ERC Advanced Grants and it is without a doubt impressive confirmation of the quality of Professor Wiesendanger's research at our University."
Wiesendanger: "I am utterly delighted that the ERC is funding this extremely challenging and risky project in pursuit of a completely new concept for quantum computing. The funds from the ERC will especially benefit early career researchers."
Internationally, Wiesendanger is regarded as one of the leading nanoscientists and experts in the field of scanning probe microscopy. His research group invented spin-polarized scanning tunneling microscopy (SP-STM) to investigate spin-dependent phenomena on atomic scale, leading to the discovery of a number of new magnetic phenomena on the nano-meter scale. Wiesendanger has published a total of approximately 580 scientific articles, given over 530 talks, and acquired 150 externally funded research projects at Universität Hamburg.
---
Queries:
Prof. Dr. Prof. h.c. Dr. h.c. Roland Wiesendanger
Universität Hamburg
Tel: +49 40 42838-5244
Merel Neuheuser
Universität Hamburg
Presidential Press Officer
Tel: +49 40 42838-1809