10 April 2018
2018 HFSP Research Grant:
Research on plant growth to get €270,000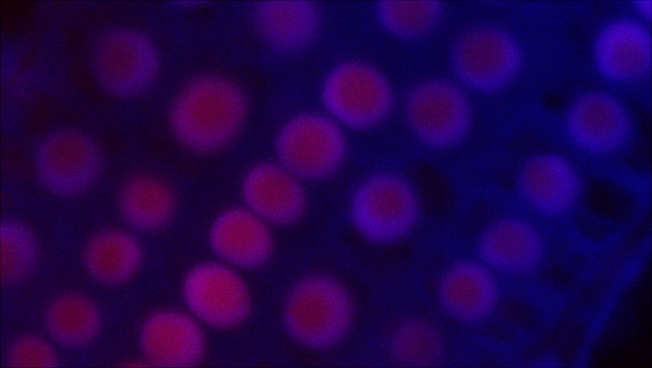 Photo: UHH/Kostika Sofroni
The picture shows, on the basis of the color intensities, that different cells have a different ratio of two proteins, which play an important role in cell division.
The research group led by biologist Prof. Arp Schnittger from Universität Hamburg has received the 2018 HFSP Research Grant together with international partners from France, Chile, and the USA. The Human Frontier Science Program (HFSP) is an international research funding agency in the life sciences that aims to promote research at the forefront of science. The Hamburg team will receive $90,000 per annum over the next 3 years—the equivalent of around €73,000 per year.
Research will focus on molecular processes in cells that are often influenced by random events. For example, whether or not 2 proteins meet in a cell has an impact on whether 1 protein can be altered by the other protein. This raises the question as to what extent a cell makes use of these accidental events in decisions, or how far these random events are modulated by the cell, for example, by amplifying or weakening these random effects.
An international research network funded by the HFSP Research Grant, to which the team from Universität Hamburg belongs, will investigate the role and influence of these random events on the control of plant cell division. In cell division, the cytoskeleton plays an important role. These thin and filamentous cell structures are responsible for the mechanical stability and shape of the cell, but also for whole cell growth and intracellular transport. During cell division, the cytoskeleton distributes the chromosomes evenly to the daughter cells and transports cell wall material to the division plane so that two separate cells can be formed. In plants, the cell division plane is controlled by what is known as the preprophase band, which also consists of components of the cytoskeleton. New findings in the research network indicate that the preprophase band serves as a quality control mechanism in cell division. By experimentally influencing the preprophase band, combined with various imaging techniques and mathematical modeling, the project will investigate to what extent the formation of the preprophase band is influenced or controlled by random events at the molecular level.
The results of this research network could lead to greater understanding of the control of plant growth and plant architecture, which is interesting for future breeding and biotechnology projects. "We are very excited to tackle this new dimension in the analysis of cell division with the help of the HFSP and our international team," said Professor Arp Schnittger.
The Human Frontier Science Program is one of the most important international funding agencies in life science research and supports only exceptional projects.
---
Für Rückfragen:
Prof. Dr. Arp Schnittger
Universität Hamburg
Institut für Pflanzenwissenschaften und Mikrobiologie
Tel: +49 40 42816-502