6 February 2017
Invitation to press discussion:
Business Administration takes up residence in beautifully restored building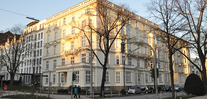 Photo: UHH/ Schell
Business Administration House at Moorweidenstrasse 18
The old build at Moorweidenstrasse 18 (opposite the Grand Elysée Hotel) is one of Hamburg-Rotherbaum's architectural pearls. Following extensive restoration financed by University funds, the building is now home to Business Administration.
Read on in German . . .
Nachdem das Haus zuletzt als Sitz der Universitätsverwaltung genutzt wurde, zogen zum Jahreswechsel große Teile der Fakultät für Betriebswirtschaft in das nun neu benannte "Haus der Betriebswirtschaft". Das 1896 ursprünglich als Wohnhaus errichtete fünfgeschossige Gebäude ist sicherlich kein gewöhnliches Universitätsgebäude – die zahlreichen hamburg- und zeittypischen Merkmale machten es im Jahr 2003 zum "Kulturdenkmal". Besonders wichtig war der Universität bei der zweijährigen Innensanierung, dass gerade diese schönen baulichen Eigenarten als Zeugnis der Zeit bewahrt und wiederhergerichtet werden sollten – mit Unterstützung der Stiftung Denkmalpflege Hamburg. Highlights sind etwa das opulente, historische Treppenhaus, der spannende Aufbau mit Zwischengeschossen, der von der Lebensweise vor mehr als 100 Jahren erzählt, und die aufwändig restaurierten Deckenmalereien und Stuckflächen. Ziel der Sanierung war es, die Geschichte des Hauses zu zeigen, aber auch den Anforderungen eines neuen Verwaltungsgebäudes gerecht zu werden und sich somit auch der Barrierefreiheit anzunehmen.
Wir laden Sie herzlich ein zu einem Pressegespräch mit dem Präsidenten der Universität Hamburg, Univ.-Prof. Dr. Dieter Lenzen, dem Dekan der Fakultät Betriebswirtschaftslehre, Prof. Dr. Mark Heitmann und dem Leiter der Abteilung Baumanagement der Universität, Carsten Happel, am
Mittwoch, 8. Februar 2017, 11.30 Uhr,
"Haus der Betriebswirtschaft", Moorweidenstraße 18, Raum 0029,
mit anschließender historischer Führung durch das Gebäude.
Wir freuen uns über Anmeldungen: merel.neuheuser"AT"uni-hamburg.de
---
Für Rückfragen:
Merel Neuheuser
Referentin des Präsidenten für Presse- und Öffentlichkeitsarbeit
Tel: +49 40 42838-1809