5 October 2017
Invitation to the media:
Non-stop presentation of encyclopedia of musicians persecuted under the Nazi regime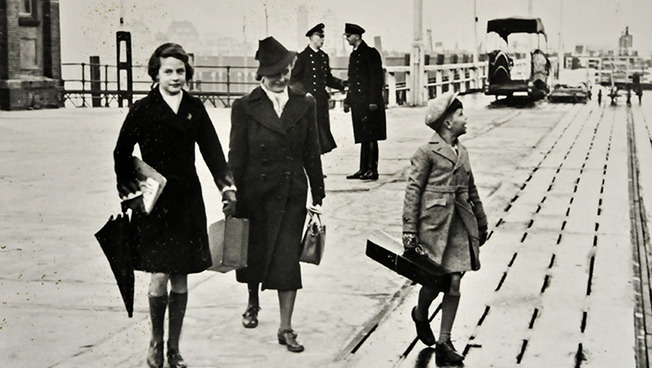 Photo: Privat
Eva und Peter, composer Paul Dessau's children, with their mother Gudrun Dessau-Kabisch at the Cuxhaven Port on the day of their departure for the United States, spring 1939.
An encyclopedia of musicians persecuted by the Nazis now boasts over 5,400 biographical entries. As part of a project being funded by the German Research Foundation, researchers have been putting together the encyclopedia since 2005 and are now making it available online (www.lexm.uni-hamburg.de). A special event will offer some insight into the venture that began 12 years ago. [Read on in German]
Interessierte sowie Vertreterinnen und Vertreter der Medien sind herzlich eingeladen zur
Non-Stop-Präsentation des "Lexikons verfolgter Musiker und Musikerinnen der NS-Zeit",
am 13. Oktober 2017, von 9 bis 19.30 Uhr,
in der Neue Rabenstraße 13, 20354 Hamburg
Bei der Veranstaltung werden im 20-Minuten-Takt 26 Biografien vorgestellt, u. a. der Sängerin Esther Bejarano, des Kabarettisten Robert T. Odemann und des Komponisten Paul Dessau. Im Anschluss an jede Lesung spielen Musikerinnen und Musiker Stücke aus den Bereichen Klassik, Pop und Folk. Sie beziehen sich auf die jeweilige Biografie der oder des Verfolgten.
Senatorin Dr. Dorothee Stapelfeldt und Prof. Dr. Oliver Huck, Dekan der Fakultät für Geisteswissenschaften der Universität Hamburg, werden Grußworte sprechen; die Eröffnungsrede hält Prof. Peter Petersen, Leiter des Projektes und Organisator der Veranstaltung.
Der Eintritt zur Veranstaltung ist frei.
Wegen der lückenlosen Abfolge von Lesungen und Livemusik sind am Veranstaltungstag selbst keine Interviews möglich. Prof. Peter Petersen, der die Veranstaltung konzipiert hat, steht aber an den Tagen vorher und hinterher für Auskünfte und Gespräche zur Verfügung.
Das Lexikon nennt nicht nur die biografischen Daten der Verfolgten, sondern erzählt – soweit bekannt – ihre Lebensgeschichten. Der Zeitraum reicht von 1933 bis zum Teil in die 1950er-Jahre, in denen einige Künstlerinnen und Künstler ins Nachkriegsexil gingen. Unter Musikerinnen und Musikern werden im Rahmen des "LexM" Personen verstanden, die in der Musikkultur sowie deren Randbereichen professionell tätig waren, also zum Beispiel auch aus den Bereichen Arrangement, Verlagswesen und Management.
Programm unter: https://www.uni-hamburg.de/newsroom/presse/downloads/lex-m-tag.pdf
---
Für Rückfragen:
Prof. Dr. Peter Petersen
Institut für Historische Musikwissenschaft
Tel: +49 40 6012657