21 September 2017
Success: Universität Hamburg receives 16 professorships through the Tenure Track Program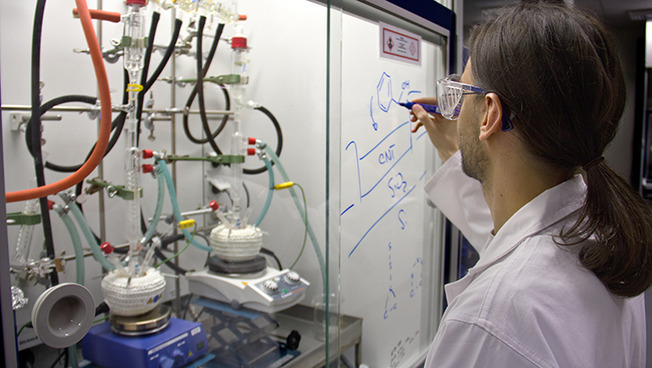 Photo: UHH/Sukhina
Tenure track allows universities and professors to continue working together beyond the junior professorship phase.
Planning the path to a professorship: through the federal and state Tenure Track Program, Universität Hamburg will recieve 16 additional tenure-track professorships dedicated to advancing young researchers. This is the most successful outcome possible in this first round. The Federal Ministry of Education and Research (BMBF) announced the allocation of 468 additional tenure-track professorships this afternoon. Following positive evaluation after 6 years, professors in this program will earn full, life-long tenure. The Program invited German universities to apply for these tenure-track professorships in advance. [Read on in German . . .]
"Wir sind sehr zufrieden mit diesem Ergebnis und werten den positiven Bescheid auch als Bestätigung der Nachhaltigkeitsstrategie der Universität Hamburg in Bezug auf die Förderung des wissenschaftlichen Nachwuchses", so Universitätspräsident Prof. Dr. Dieter Lenzen. "Das Tenure-Track-Programm gibt jungen Wissenschaftlerinnen und Wissenschaftlern Planungssicherheit für ihren Karriereweg und ermöglicht der Universität zugleich die Gewinnung hervorragender Nachwuchskräfte aus dem In- und Ausland."
Mit insgesamt 1000 neuen Tenure-Track-Professuren und einer Fördersumme von einer Milliarde Euro bis 2032 will das Bundesministerium für Bildung und Forschung (BMBF) die zusätzliche Karrieremöglichkeit Tenure-Track ab 2017 fest an den deutschen Universitäten etablieren. Die neue Berufungsoption hat einen großen Vorteil für die Universitäten: Bei der Juniorprofessur ohne Tenure-Track müssen vielversprechende Nachwuchswissenschaftlerinnen und -wissenschaftler die zuerst berufende Hochschule letztlich immer verlassen, da sie erst an einer anderen Hochschule die permanente Professur erlangen können. Der Tenure-Track eröffnet einer Hochschule – und den Berufenen – die Möglichkeit, die gute Zusammenarbeit über die Phase der Juniorprofessur hinaus fortzusetzen.
---