18 September 2017
Children's Uni turns 15
2017 lecture series kicks off with "How Does Our Memory Work?"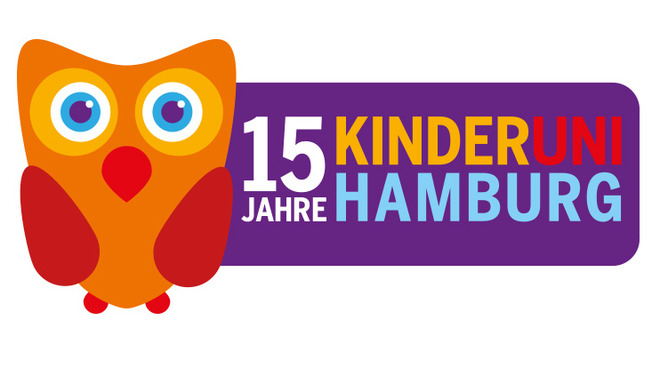 Photo: UHH, RRZ/MCC, Mentz
Lectures at the Children's Uni are for children between 8 and 12 years of age.
How many Children's Uni lectures have taken place over the last 14 years? And who gave the first lecture back in 2003? Remembering small details of events that happened a long time ago is not always easy—even for young people. But why is that so? In the first lecture on 9 October 2017 at 5 pm, Dr. Jasper Grendel will explain to our budding scientists and scholars how our memory works and how we remember things. In the following 5 lectures in the series, researchers answer questions about spiders, neaderthals, light, elections, and why soil is more than just dirt. [Read on in German . . .]
Alle Vorlesungen richten sich an Kinder zwischen acht und zwölf Jahren und finden montags um 17 Uhr im Audimax statt.
Die Themen der Kinder-Uni Hamburg 2017 im Überblick:
09.10.: Wie funktioniert unser Gedächtnis? Dr. Jasper Grendel
16.10.: Warum sind Spinnen wichtig? Dr. Danilo Harms
23.10.: Wie lebten die Neandertaler? Jun.-Prof. Dr. Daniela Hofmann
30.10.: Was ist Licht? Dr. Juliette Simonet
06.11.: Warum gehen Erwachsene wählen? Prof. Dr. Andreas Nicklisch
13.11.: Warum sind Böden mehr als Dreck? Prof. Dr. Eva-Maria Pfeiffer
Zur Abschlussveranstaltung, die am Sonntag, dem 19. November 2017, einmal um 11 Uhr und einmal um 14 Uhr stattfindet, wird es magisch. Dr. Andreas Korn-Müller alias "Magic Andy" nimmt die Besucherinnen und Besucher bei "Magic Andys fantastischer Chemie-Show" mit auf eine Reise voller Experimente und Effekte.
Die Vorlesungen dauern etwa 45 Minuten und sind kostenfrei. Eine Anmeldung ist nicht erforderlich, bei größeren Klassen oder Gruppen jedoch gern gesehen (unter: info@kinderuni-hamburg.de).
Jedes Kind erhält bei seinem ersten Besuch der diesjährigen Kinder-Uni Hamburg einen Studierendenausweis. Für jede besuchte Vorlesung können sich die Mädchen und Jungen einen Stempel abholen. Wer mindestens bei vier Vorlesungen dabei war, besucht die Abschlussveranstaltung kostenlos. Zusätzliche Eintrittskarten für die Abschlussveranstaltung – auch für Eltern und Geschwister – sind während der Vorlesungen im Foyer des Audimax oder ab Oktober im Uni-Kontor (Allendeplatz 1) und im "Hamburger Abendblatt Ticketshop" im Bahnhof Dammtor erhältlich (Preis: 6,50 Euro).
Der Veranstaltungsort befindet sich auf dem Campusgelände der Universität Hamburg (S-Bahn Dammtor, U-Bahn Hallerstraße, Metrobus 4/5): Audimax, Von-Melle-Park 4, 20146 Hamburg.
Die Hamburger Kinder-Uni geht 2017 in ihr 15. Jahr und blickt auf insgesamt 84 Vorlesungen zurück. Die Reihe ist ein Kooperationsprojekt; seit 2013 wird sie gemeinsam ausgerichtet von der Universität Hamburg, der Claussen-Simon-Stiftung, dem Kindermagazin "GEOlino", der ETV KiJu (gemeinnützige GmbH, Tochtergesellschaft des Eimsbütteler Turnverbandes e.V.) sowie den Hamburger Unternehmen Euler Hermes Deutschland und Jungheinrich AG. Die Kinder-Uni-Partner möchten mit ihrem Engagement Kindern der Grundschule und Sekundarstufe 1 die Faszination wissenschaftlicher Themen näher bringen.
Referentinnen und Referenten sowie Organisatorinnen und Organisatoren stehen Ihnen vor Ort für Interviews gerne zur Verfügung.
Das ausführliche Programm sowie weitere Informationen für Kinder und Eltern und einen Trailer finden Sie ebenfalls unter www.kinderuni-hamburg.de. Jede Woche wird dort zudem ein kurzer Teaser-Film veröffentlicht, der zeigt, was die Kinder in der folgenden Woche erwartet.
---
Für Rückfragen:
Birgit Kruse
Universität Hamburg
Kommunikation und Öffentlichkeitsarbeit
Tel: +49 40 42838-4521