7 August 2017
CeNak research team analyzes species diversity in new conservation area Duvenwischen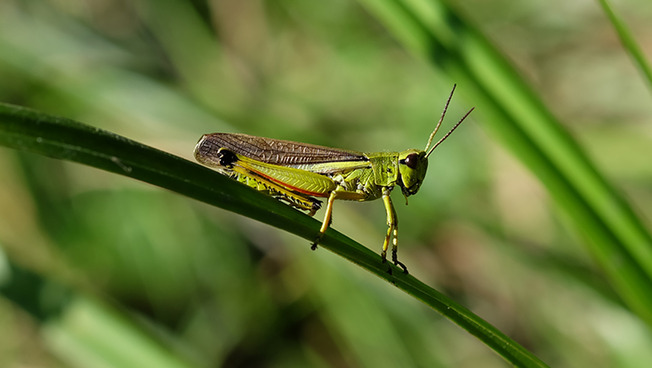 Photo: CeNak/Swantje Grabener
Male of the greatly endangered Stethophyma grossum (Linnaeus, 1758)—a typical inhabitant of green wetland areas.
On behalf of the Ministry for Environment and Energy (BUE) of the Free and Hanseatic City of Hamburg (FHH), researchers from the Center of Natural History (CeNak) at Universität Hamburg analyzed the prevalence of selected animal groups in wetland areas of Duvenwischen in the suburb of Volksdorf during 2016. The study is now available in the Transparency Portal of the FHH and provides the basis for deliberations on the designation of the Duvenwisch as a conservation area. [Read on in German . . .]
Im Rahmen der Studie konnten die elf beteiligten Wissenschaftlerinnen und Wissenschaftler insgesamt 825 Tierarten innerhalb des nur ca. 43 Hektar umfassenden Untersuchungsgebietes "Duvenwischen" nachweisen. Untersucht wurden die Tiergruppen Brutvögel, Fledermäuse, Amphibien, Reptilien, Libellen, Eintags-, Stein- und Köcherfliegen, Heuschrecken, Stechimmen, Schmetterlinge und Käfer. Besonders groß war der Artenreichtum innerhalb der Insekten – so konnten allein in der Gruppe der Käfer im Zeitraum Mai bis September 2016 insgesamt 13.671 Nachweise von 561 Käferarten erbracht werden. Hierunter auch stark gefährdete Arten wie die Laufkäferart Blethisa multipuntata (Linnaeus, 1758). In einem etwa 0,8 Hektar großen, komplett vom schleswig-holsteinischen NSG "Heidkoppelmoor und Umgebung" umschlossenen Bereich konnten auch sehr seltene feuchtigkeitsliebende Heuschreckenarten wie die Sumpfschrecke Stethophyma grossum (Linnaeus, 1758) nachgewiesen werden.
"Diese Studie belegt eindrucksvoll, dass insbesondere der suburbane Raum aufgrund des großen Biotopreichtums auf engsten Raum mit einem großen Artenreichtum ausgestattet sein kann" sagt Prof. Dr. Matthias Glaubrecht, Direktor des Centrums für Naturkunde. "Besonders auffällig ist der mit 83 Arten (ca. 10,2 %) vergleichsweise hohe Anteil seltener und gefährdeter Tierarten, die aktuell einer Gefährdungskategorie der Roten Liste Deutschlands zugeordnet sind. Dieser Umstand kann als Beleg für eine große Strukturvielfalt im Untersuchungsgebiet sowie einen vergleichsweise naturnahen Zustand der Biotope gewertet werden" sagt Dr. Martin Kubiak, Entomologe am CeNak und Leiter der Studie.
Das Untersuchungsgebiet "Duvenwischen" beherbergt 25 verschiedene Biotoptypen, darunter besonders artenreiche und somit aus naturschutzfachlicher Sicht wertvolle, extensiv genutzte Feuchtgrünlandflächen. Da dem Gebiet eine wichtige Verbundfunktion bei der Vernetzung von Populationen unterschiedlicher Tier- und Pflanzenarten im länderübergreifenden Schutzgebietssystem zukommt, bereitet die BUE eine Ausweisung als Naturschutzgebiet vor.
Für das Projekt kooperierten das CeNak und die BUE erstmalig bei der praxisorientierten Ausbildung des wissenschaftlichen Nachwuchses: "Junge und motivierte Nachwuchswissenschaftlerinnen und -wissenschaftler haben für das Projekt mit Spezialistinnen und Spezialisten mit jahrelanger Erfahrung zusammengearbeitet. Mit diesem Ansatz möchten wir dem sich abzeichnenden Verlust von Artenkenntnis entgegensteuern, indem wir möglichst früh in der universitären Ausbildung Fragestellungen des praktischen Naturschutzes einbinden", erklärt Dr. Martin Kubiak.
Link zur Studie (PDF):
http://daten.transparenz.hamburg.de/Dataport.HmbTG.ZS.Webservice.GetRessource100/GetRessource100.svc/40f61dd1-b710-4ca1-94b5-28a19f5ea0dd/Akte_UN891.39-49.pdf
---
Für Rückfragen:
Dr. Martin Kubiak
Universität Hamburg
Centrum für Naturkunde
Tel: +49 40 42383-5624