24 July 2017
String mathematics summit:
International conference on string mathematics 2017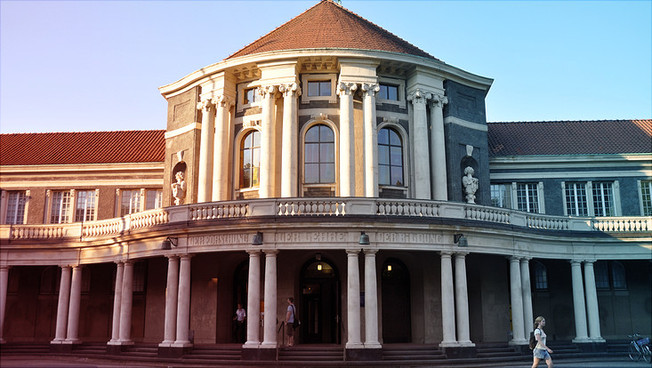 Photo: UHH/Schell
Leading researchers in string mathematics will meet from 24–28 July at Universität Hamburg.
From 24–28 July 2017 leading international researchers in the field of string mathematics will be convening at Universität Hamburg for the StringMath 2017 conference to address current developments in the field. Conference organizers are expecting over 200 participants from the fields of physics and mathematics, including renowned scientists such as Prof. Dr. Andrei Okounkov from Columbia University and Prof. Dr. Shing-Tung Yau from Harvard University. Both have won the Fields Medal, also known as the Nobel Prize for mathematics. Prof. Dr. Xi Yin, who was appointed as Professor of Theoretical Physics at Harvard when he was just 24, will also be attending. [Read on in German]
Von heute (24. Juli) bis noch zum 28. Juli 2017 treffen sich internationale Spitzenforscherinnen und -forscher auf dem Gebiet der String-Mathematik an der Universität Hamburg. Unter dem Titel "StringMath 2017" werden sie aktuelle Entwicklungen ihres Fachgebiets diskutieren. Erwartet werden mehr als 200 Teilnehmerinnen und Teilnehmer aus Physik und Mathematik, darunter renommierte Wissenschaftler wie Prof. Dr. Andrei Okounkov von der Columbia University und Prof. Dr. Shing-Tung Yau von der Harvard University, beide Träger der Fields-Medaille, der Entsprechung des Nobelpreises auf dem Gebiet der Mathematik. Auch Prof. Dr. Xi Yin, der bereits mit 24 Jahren zum Professor für theoretische Physik in Harvard berufen wurde, zählt zu den Gästen.
Die Stringtheorie wurde aus der Physik heraus entwickelt, um die Quantentheorie und die Relativitätstheorie in einer umfassenderen Theorie zu vereinen. Sie ist mathematisch sehr facettenreich und hat ganz erheblich zu der Wiederzusammenführung von Forschung in der Physik und in der Mathematik beigetragen. Der Begriff "String-Mathematik" bezeichnet sowohl die Verbindung der theoretischen Physik der fundamentalen Kräfte (Elektromagnetismus, schwache und starke Kraft sowie Gravitation) mit der Mathematik als auch die mit der Stringtheorie befassten Querverbindungen innerhalb der Mathematik.
Die String-Mathematik im Forschungsschwerpunkt "Teilchen-, Astro- und Mathematische Physik", die eng mit dem Deutschen Elektronen-Synchrotron (DESY) kooperiert, macht die Universität Hamburg zu einem der weltweit führenden Standorte für dieses Forschungsgebiet. Im vergangenen Jahr erhielt Prof. Dr. Bernd Siebert vom Fachbereich Mathematik gemeinsam mit Prof. Dr. Mark Gross aus Cambridge den renommierten Clay Research Award für seine mathematischen Arbeiten, die von der Stringtheorie inspiriert sind. Auch der interdisziplinäre Sonderforschungsbereich "Teilchen, Strings und das frühe Universum – Struktur von Materie und Raumzeit (Sprecher: Prof. Dr. Johannes Haller) mit Projekten an der Schnittstelle zwischen Teilchenphysik, Stringtheorie und Kosmologie ist überaus erfolgreich und wird bereits in der dritten Periode von der Deutschen Forschungsgemeinschaft (DFG) gefördert. Außerdem bietet das Graduiertenkolleg "Mathematics inspired by String Theory and Quantum Field Theory" unter der Leitung von Prof. Dr. Christoph Schweigert  Doktorandinnen und Doktoranden ein strukturiertes Programm zur mathematischen Behandlung der String- und Quantenfeldtheorie. Und nicht zuletzt sind an der Universität Hamburg gleich zwei Emmy Noether-Nachwuchsgruppen angesiedelt, deren Themen zum Bereich der String-Mathematik gehören.
Prof. Dr. Jörg Teschner vom Fachbereich Mathematik und einer der Konferenz-Organisatoren: "Die 'StringMath' an der Universität Hamburg wird eine der größten Veranstaltungen dieser Reihe sein und die internationale Sichtbarkeit unserer Forschung auf diesem Gebiet weiter akzentuieren."
Die "StringMath" findet seit 2011 jedes Jahr an einem anderen Ort der Welt statt. Die diesjährige Konferenz wird gemeinsam organisiert von den Fachbereichen Mathematik und Physik der Universität Hamburg sowie dem Deutschen Elektronen-Synchrotron (DESY).
Programm der StringMath 2017:
https://stringmath2017.desy.de/e45470/
Liste der Rednerinnen und Redner auf der StringMath 2017:
https://stringmath2017.desy.de/
---
Für Rückfragen:
Prof. Dr. Jörg Teschner
Universität Hamburg
Fachbereich Mathematik
Tel: +49 40 42838-1998
Dr. Murad Alim
Universität Hamburg
Fachbereich Mathematik
Tel: +49 40 42838-5163