5 July 2017
Invitation to press conference
Warming experiment on the Hamburg Hallig—salt marshes and climate change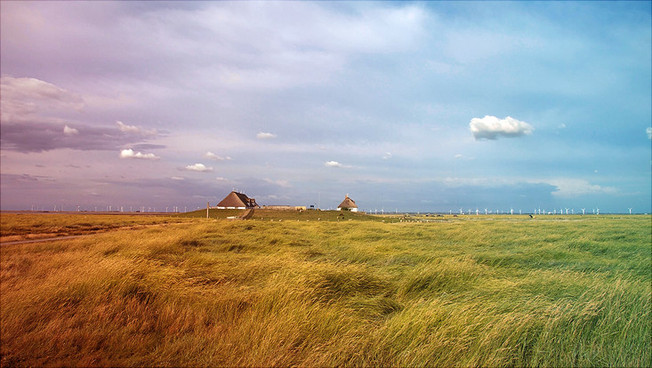 Photo: Pixabay.com/Wolf Blur
Warming experiment on a Hamburg Hallig.
Salt marshes are habitats for highly specialized plants and animals and they protect coastal regions from storm floods. They also store atmospheric carbon long term, thereby contributing to climate protection. Yet rising temperatures in the wake of climate change can upset the entire system. What do these changes mean for human beings? [Read on in German]
Salzwiesen bieten Lebensraum für hoch spezialisierte Pflanzen und Tiere und schützen die Küste bei Sturmfluten. Sie speichern langfristig Kohlenstoff aus der Atmosphäre und tragen so zum Klimaschutz bei. Doch wenn die Temperaturen im Zuge des globalen Klimawandels ansteigen, könnte das System aus dem Gleichgewicht geraten. Was bedeuten diese Änderungen für uns Menschen?
In einem weltweit einzigartigen Experiment studieren Forschende der Universität Hamburg und des Smithsonian Environmental Research Center (USA) auf der Hamburger Hallig im Nationalpark Schleswig-Holsteinisches Wattenmeer die Auswirkungen der globalen Erwärmung auf Salzwiesen.
Medienvertreterinnen und -vertreter sind herzlich eingeladen zu einem Besuch des Erwärmungsexperiments auf der Hamburg Hallig am:
Donnerstag, dem 20. Juli 2017, um 11 Uhr,
Hamburger Hallig, 25821 Reußenköge (Kreis Nordfriesland),
auf dem Parkplatz am Ende des Fahrdamms.
Für Teilnehmende am Pressetermin ist die Nutzung des Fahrdamms zur Hallig frei.
Bitte melden Sie sich bis Freitag, 14. Juli 2017, für den Pressetermin an bei: 
maike.nicolai@uni-hamburg.de  – vielen Dank!
Die Wissenschaftlerinnen und Wissenschaftler richten auf der Hallig 27 etwa neun Quadratmeter große, mit Kuppeln überspannte Untersuchungsflächen ein. Unter den Folien dieser Kuppeln steigt die Lufttemperatur durch die Sonneneinstrahlung wie in einem Gewächshaus an. Mit Hilfe von Kabeln wird zudem der Boden bis in einen Meter Tiefe um 1,5 beziehungsweise 3 Grad Celsius erwärmt. Bis zum Jahr 2022 wollen die Forschenden jeweils von März bis September die Entwicklung der Artenzusammensetzung in verschiedenen Vegetationszonen, die Produktion und den Abbau von Biomasse, Nährstoffumsätze im Boden und die Festlegung von Kohlenstoff im Boden beobachten.
Ansprechpersonen vor Ort sind:
Dr. Stefanie Nolte, Biologin, Universität Hamburg, Arbeitsgruppe Küstenökologie
Prof. Dr. Kai Jensen, Biologe, Universität Hamburg, Abteilung Angewandte Pflanzenökologie
Dr. Roy Rich, Research Associate, Smithsonian Environmental Research Centre
Dr. Hendrik Brunckhorst, Pressesprecher Nationalparkverwaltung Schleswig-Holsteinisches Wattenmeer
---
Für Rückfragen:
Maike Nicolai
Universität Hamburg
Fakultät für Mathematik, Informatik und Naturwissenschaften (MIN)
Dekanat
Tel: +49 40 42838-7193