27 June 2017
Summer concerts at Universität Hamburg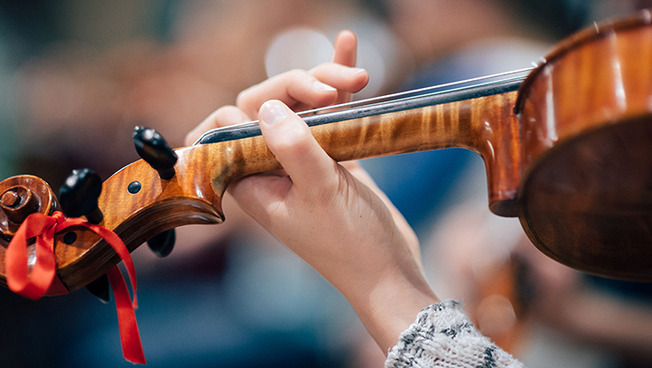 Photo: G2 Baraniak
Der Chor der Universität tritt mit romantischen Chorwerken von Elgar, Fauré, Schumann, Stenhammar, Mendelssohn und Brahms auf, das Sinfonieorchester spielt Werke von Gulda, Mahler und Brahms.
The choir and symphony orchestra of University Music cordially invite the public to its summer concerts on 2 and 8 July 2017. [Read on in German]
Chor und Sinfonieorchester der Universitätsmusik Hamburg laden herzlich zu ihren Sommerkonzerten am 2. und 8. Juli 2017 ein.
Der Chor, das größte Ensemble der Universitätsmusik, tritt auf
am Sonntag, dem 2. Juli 2017, um 19.00 Uhr
in der Hamburger Laeiszhalle (Kleiner Saal)
mit romantischen Chorwerken der Komponisten Elgar, Fauré, Schumann, Stenhammar, Mendelssohn und Brahms. Solist am Klavier ist der Solorepetitor der Hamburgischen Staatsoper, Volker Krafft.
Das Sinfonieorchester musiziert am
am Samstag, dem 8. Juli 2017, um 19.30 Uhr
in der Aula der Waldorfschule Wandsbek.
Auf dem Programm steht das Konzert für Violoncello und Blasorchester von Friedrich Gulda, das Adagietto aus der 5. Sinfonie von Gustav Mahler und die Sinfonie Nr. 3 von Johannes Brahms. Solist am Violoncello ist der aus Sri Lanka stammende Cellist Ruben Jeyasundaram.
Die Leitung beider Konzertabende hat der Akademische Musikdirektor Prof. Thomas Posth inne.
Tickets für 12 Euro (Normalpreis) und für 5 Euro (Studierende, Rentner, Schüler, Arbeitslose, Behinderte) sind erhältlich im Unikontor, Allende-Platz 1, 20146 Hamburg, Montag bis Donnerstag von 9.30 bis 17 Uhr, Freitag von 9.30 bis 16 Uhr und an der Abendkasse.
Refugees erhalten Freikarten! Geflüchtete sollten sich dazu an der Abendkasse melden.
Weitere Informationen unter: www.unimusik.uni-hamburg.de