26 January 2017
University winter concert: destiny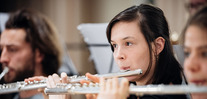 Photo: G2 Baraniak
The University's music ensembles will perform Johannes Brahms' "Songs of Destiny" as well as work by Pyotr IlyichTchaikovsky.
The University orchestra and choir as well as the alumni choir cordially invite the public to its winter concert on Sunday, 5 February 2017 at 8 pm (introduction at 7 pm) in the large auditiorium of the Laeiszhalle.
Read on in German...
Auf dem Programm stehen Schicksalswerke prominenter Komponisten: Die größten Musikensembles der Universität Hamburg führen chorsinfonische und a cappella-Werke von Johannes Brahms und die populäre 6. Sinfonie "Pathétique" von Pjotr Iljitsch Tschaikowsky auf.
Johannes Brahms wurde in der Epoche der Romantik zunächst vor allem als Komponist von Vokalmusik bekannt. So weist sein Werkverzeichnis unter anderem rund fünfzig Volkslieder und eine Vielzahl an a cappella- und chorsinfonischen Kompositionen auf. Schicksalsschläge wie der Tod seines Mentors Robert Schumann und der seiner Mutter hatten großen Einfluss auf Brahms' musikalisches Schaffen. Die Chorwerke entstanden in den späteren Lebensjahren des Komponisten, in denen er sich mit dem Tod vieler seiner Freunde auseinander setzen musste.
Pjotr Iljitsch Tschaikowsky skizzierte den Rohentwurf zu seiner 6. Sinfonie innerhalb von zwölf Tagen, die Orchestrierung stellte er im August 1893 binnen vier Wochen fertig. Die Uraufführung erfolgte am 16. Oktober 1893 in St. Petersburg. Nur wenige Tage später, am 25. Oktober, verstarb der Komponist an Cholera. Tschaikowsky verwendete in seinem letzten Werk liturgische Melodien des russisch-orthodoxen Totenoffiziums, was die requiemhafte Stimmung der "Pathétique" erklärt.
Die Universitätsmusik bittet um 19.00 Uhr zur musikwissenschaftlichen Einführung in den Großen Saal der Laeiszhalle. Referent ist Prof. Dr. Friedrich Geiger, Musikhistoriker am Musikwissenschaftlichen Institut der Universität Hamburg. Die Leitung des Konzertabends hat der Akademische Musikdirektor Prof. Thomas Posth inne.
Tickets (18 Euro/ erm. 9 Euro) unter www.ADticket.de oder der Hotline 0180-60 50 400 und an allen bekannten Vorverkaufsstellen. Refugees erhalten Freikarten an der Abendkasse, wenn sie sich entsprechend ausweisen.
---
Für Rückfragen:
Nikola Mehlhorn
Universitätsmusik
Tel: +49 40 42838-5773