19 June 2017
10th anniversary of the European Research Council: Universität Hamburg takes stock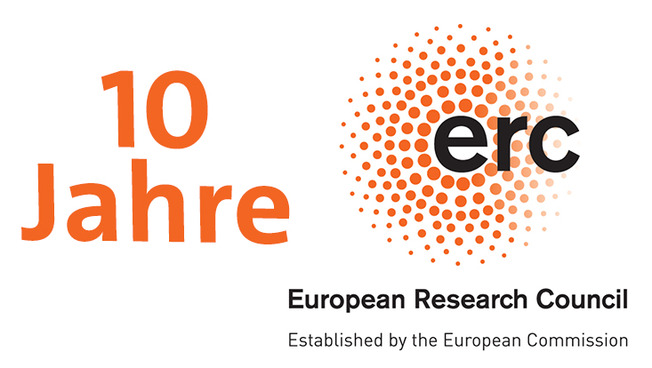 Photo: ERC
Since ERC funding commenced in 2007, a total of 22 grants have been awarded to researchers at Universität Hamburg.
During his visit to Hamburg on 19 June 2017 to mark the 10th anniversary of the European Research Council (ERC), the ERC president Professor Jean-Pierre Bourguignon (Brussels) will be visiting the Centre for the Study of Manuscript Cultures (CSMC) at Universität Hamburg. The Centre is home to five research projects funded by the ERC. Since ERC funding began in 2007, a total of 22 grants have been awarded to researchers at Universität Hamburg. [Read on in German . . . ]
Im Rahmen seines Aufenthaltes in Hamburg am 19. Juni 2017 anlässlich des 10-jährigen Bestehens des Europäischen Forschungsrats (ERC) besucht ERC-Präsident Prof. Jean-Pierre Bourguignon (Brüssel) unter anderem das Centre for the Study of Manuscript Cultures (CSMC) an der Universität Hamburg. Dort befinden sich gleich fünf ERC-geförderte Forschungsvorhaben der Universität Hamburg. Seit Beginn der ERC-Förderung im Jahr 2007 gingen bereits insgesamt 22 Grants an Wissenschaftlerinnen und Wissenschaftler der Universität Hamburg.
Die Förderung des ERC wird in den drei Hauptkategorien "Starting Grant", "Consolidator Grant" und "Advanced Grant" bewilligt. Während Starting Grants von jungen Wissenschaftlerinnen und Wissenschaftlern zwei bis sieben Jahre nach der Promotion eingeworben werden können, dienen die Consolidator Grants einer Phase des beruflichen Weiterkommens; die Advanced Grants werden an ausgewiesene Wissenschaftlerinnen und Wissenschaftler ihres Forschungsumfelds vergeben. Wissenschaftler und Wissenschaftlerinnen der Universität Hamburg haben seit 2007 neun Advanced Grants, drei Consolidator Grants und neun Starting Grants eingeworben. Zudem wurden in der Testphase der sogenannten "Synergy Grants", ausgeschrieben in 2012 und 2013, zwei Synergy Grants für Teams mit vier Wissenschaftlern, die interdisziplinär zusammenarbeiten, vergeben, bei denen Wissenschaftler aus der Universität Hamburg federführend beteiligt waren. Einer dieser Grants ist nach dem Prinzip "Grant follows Researcher" des ERC nach Berufung der Antragsteller zu Max-Planck Direktoren am neu gegründeten Max-Planck-Institut für Struktur und Dynamik der Materie verortet worden.
Im Bereich der Geisteswissenschaften war die Universität Hamburg besonders erfolgreich im Asien-Afrika-Institut. Fünf ERC Projekte sind dort angesiedelt, drei Advanced Grants wurden im Jahr 2014 gleichzeitig bewilligt. Frau Prof. Eva Wilden und Herr Prof. Stefan Heidemann werden beim Besuch des ERC-Präsidenten ihre Projekte vorstellen.
Universitätspräsident Prof. Dr. Dieter Lenzen: "Dass die Universität Hamburg bei dem hochkompetitiven Wettbewerb um Fördermittel des ERC von Anfang an sowohl in den Natur- als auch in den Geisteswissenschaften so erfolgreich war, belegt ein weiteres Mal die hohe Expertise und Innovationskraft unserer Wissenschaftlerinnen und Wissenschaftler. Insgesamt wurden über den ERC an der Universität Hamburg ohne die Projekte am Universitätsklinikum Eppendorf bereits 34 Mio. Euro seit 2007 eingeworben, das sind über 40% der für Hamburg insgesamt bewilligten ERC-Mittel. Die Bedeutung dieses Förderinstruments zeigt sich allein schon in der innovativen Entwicklung unseres Forschungsschwerpunktes Manuskriptkulturen, der von der Einwerbung mehrerer Grants profitieren konnte."
Insgesamt laufen gegenwärtig 15 Projekte an der Universität Hamburg, die über das Förderprogramm des ERC gefördert werden. Die Universität Hamburg stellt gern den Kontakt zu den Wissenschaftlerinnen und Wissenschaftlern her.
---
Für Rückfragen:
Merel Neuheuser
Universität Hamburg
Referentin des Präsidenten für Presse- und Öffentlichkeitsarbeit
Tel: +49 40 42838-1809