16 June 2017
Vice president of Universität Hamburg reconfirmed in office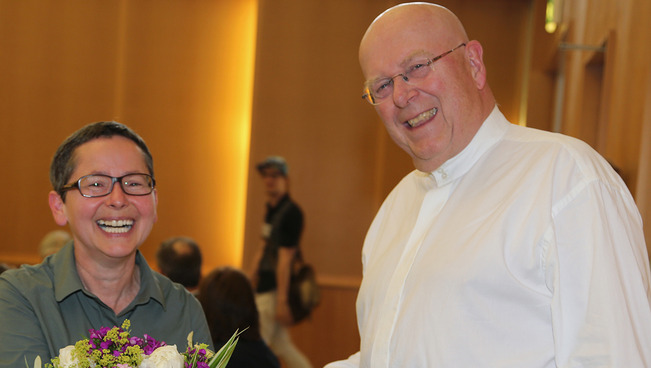 Photo: UHH/Schöttmer
University president Prof. Dr. Dieter Lenzen congratulates Prof. Dr. Susanne Rupp on her reconfirmation in office.
The Academic Senate of Universität Hamburg has elected Prof. Dr. Susanne Rupp, vice president for studies and teaching to a second, three-year term of office in its regular meeting on 15 June 2017. [Read on in German . . .]
Der Akademische Senat der Universität Hamburg hat Prof. Dr. Susanne Rupp, Vizepräsidentin für Forschung und Lehre, in der turnusgemäßen Sitzung am Donnerstag, dem 15. Juni 2017, für eine zweite Amtszeit von weiteren drei Jahren wiedergewählt.
Universitätspräsident Prof. Dr. Dieter Lenzen, der Prof. Dr. Rupp vorangehend für eine erneute Wahl vorgeschlagen hatte: "Ich gratuliere Prof. Dr. Rupp zur Amtsbestätigung und freue mich auf die Fortführung der guten Zusammenarbeit für weitere drei Jahre."
Susanne Rupp ist seit 2007 Professorin für Britische Literatur und Kultur an der Universität Hamburg. Sie war von 2010 bis 2014 Prodekanin für Studium und Lehre an der Fakultät für Geisteswissenschaften, bevor Sie im August 2014 als Vizepräsidentin ins Präsidium der Universität Hamburg gewählt wurde. Sie vertritt dort unter anderem die Bereiche Studium und Lehre, Qualitätssicherung des Studienangebots, Lehrerbildung und Weiterbildung. Ihre zweite Amtszeit beginnt am 1. August 2017.