24 May 2017
Invitation to the media:
Arts and science in City Hall's foyer
The Cluster of Excellence CUI will be showing images from the micro-world from 1 to 15 July 2017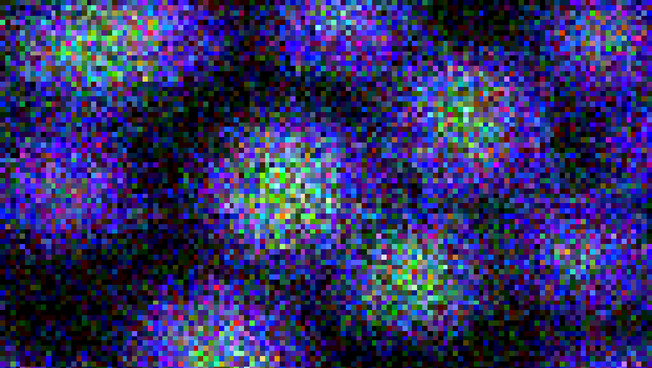 Photo: Andreas Kornowski, AG Weller (Universität Hamburg)
Size, form, and composition determine the characteristics of nanomaterial. This image from a transmission electron microscope shows the local composition of "core-shell particles." The lead selenide core is green, the cadmium selenide shell purple.
Pop art, drawings by indigenous Australians, or psychedelic visions? Take a second look: the exhibition Art & Science will be showing images from the micro-world of basic natural science research conducted in the Cluster of Excellence The Hamburg Centre for Ultrafast Imaging (CUI). [Read on in German]
Ist es Pop-Art, sind es Zeichnungen australischer Ureinwohner oder Visualisierungen psychedelischer Erlebnisse? Die Ausstellung "Arts & Science" gibt sich erst auf den zweiten Blick zu erkennen: Sie präsentiert Bilder aus der Mikrowelt der naturwissenschaftlichen Grundlagenforschung des Exzellenzclusters der Universität Hamburg "The Hamburg Centre for Ultrafast Imaging" (CUI) – wellenförmige Gebilde und Farbexplosionen, aber auch direkte Aufnahmen aus dem Elektronenmikroskop. Der Interpretationsspielraum ist groß, und es bleibt den Betrachterinnen und Betrachtern überlassen, die Schönheit der Darstellungen wirken zu lassen oder über die begleitenden Texte einen Einstieg in die zugrundeliegende Physik und Chemie zu finden.
Pressevertreterinnen und -vertreter sind herzlich eingeladen zur Eröffnung der Ausstellung
am Donnerstag, dem 1. Juni 2017, um 17.30 Uhr in der Rathausdiele.
Es sprechen Dr. Rolf Greve, Mitglied des Leitungsteams der Wissenschaftsbehörde, Universitätspräsident Prof. Dr. Dieter Lenzen, Prof. Julia Lohmann (Hochschule für Bildende Künste) und Prof. Dr. Peter Schmelcher (CUI).
Wir freuen uns über Anmeldungen per E-Mail an: ingeborg.adler@cui.uni-hamburg(ingeborg.adler"AT"cui.uni-hamburg.).(ingeborg.adler"AT"cui.uni-hamburg.)
"Wir möchten die Besucherinnen und Besucher dazu einladen, das Künstlerische und die Ästhetik in den Naturwissenschaften zu entdecken", sagt CUI-Vorstandsmitglied Professor Dr. Peter Schmelcher. "Arts & Science" zeigt im Poster-Format Visualisierungen von naturwissenschaftlichen Phänomenen, die im Rahmen der CUI-Forschung untersucht werden. Sie werden durch Fotos der hochmodernen Labore und Lichtquellen ergänzt.
Im Exzellenzcluster CUI kooperieren Forscherinnen und Forscher der Universität Hamburg mit Teams des Deutschen Elektronen-Synchrotrons (DESY), des Max-Planck-Instituts für Struktur und Dynamik der Materie (MPSD), der European XFEL GmbH (XFEL) und des European Molecular Biology Laboratorys (EMBL). Ihr Ziel ist es, die Bewegungen von Atomen und Molekülen direkt zu beobachten, um sie eines Tages möglicherweise steuern zu können.
Öffnungszeiten der Ausstellung: Montag bis Freitag von 7-19 Uhr, Samstag 10-18 Uhr, Sonntag 10-17 Uhr. Am Pfingstwochenende ist die Rathausdiele wie folgt geöffnet: Samstag von 10-17 Uhr, Pfingstsonntag geschlossen, Pfingstmontag von 10-17 Uhr. Der Eintritt ist frei.