17 May 2017
New directions in research:
Student researches petrified marine animals in the flooring of Hamburg's shopping malls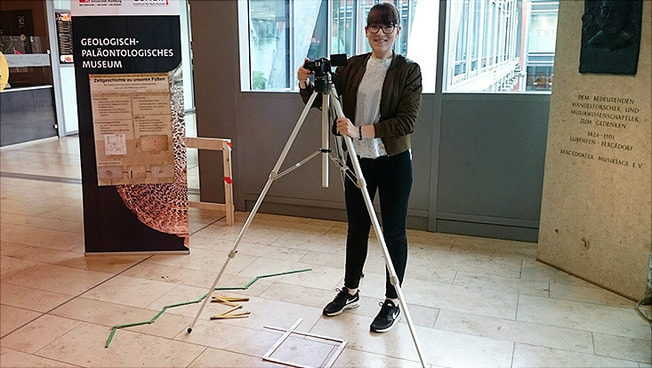 Photo: UHH/Brose
Samantha Brose examining the marble flooring of the Bergedorf City Center
Hamburg is teeming with petrified sponges, snails, mollusks, and squid but who would think of a trip to the mall as a dip in the primordial sea? Samantha Brose, a student of geology and paleontology at Universität Hamburg, is researching the marble in the Bergedorf City Center and Rahlstedt Center. A further project at the Europapassage mall is being planned. The flooring reflects Earth's ancient past—after all, the marble floors are made of limestone dating back 150 million years. [Read on in German]
"Die Untersuchung des Treuchtlinger Marmors anhand von Bodenplatten ist ein neuer Ansatz in unserer Forschung", erklärt Dr. Ulrich Kotthoff, Leiter des Geologisch-Paläontologisches Museums im Centrum für Naturkunde (CeNak). "Dieses Vorgehen erlaubt wahrscheinlich sogar eine genauere Analyse des marinen Ökosystems als ein Forschungsprojekt in den entsprechenden Steinbrüchen, da in diesen immer nur wenig Material gleichzeitig zugänglich ist."
In einem gemeinsamen Projekt des Instituts für Geologie und des Centrums für Naturkunde der Universität Hamburg sollen diese Meerestiere und die von ihnen gebildeten vergangenen Ökosysteme nun paläontologisch untersucht werden. Diese Analysen sind auch für die Klimaforschung von Bedeutung, da während der Jurazeit die globalen Temperaturen und somit auch der Meeresspiegel viel höher waren als heute. Studentin Samantha Brose ermittelt, wie häufig bestimmte Tierarten im Vergleich zu anderen aufgetreten und wie alt die Tiere geworden sind. So wird eine umfassende Ökosystemrekonstruktion möglich.
Samantha Brose: "An diesem Projekt gefällt mir besonders die Mischung aus wissenschaftlicher und öffentlicher Arbeit mit dem direkten Bezug in unseren Alltag. Mich motiviert, durch dieses Pilotprojekt eigene Methoden entwickeln zu können sowie abseits des Unigeländes praktisch zu arbeiten."
Untersuchungen in den Abbaugebieten des Gesteins sind problematisch, da die entsprechenden Steinbrüche schwer zugänglich sind. Auch Sammlungsmaterial bietet sich nicht für statistische Untersuchen an, da meist unter bestimmten Kriterien gesammelt worden, z. B. nach bestimmten Arten oder der Größe der Individuen. Anders ist die Situation bei den in vielen Hamburger Gebäuden ausgelegten Bodenplatten. Sie sind nicht unter Berücksichtigung der Schönheit einzelner Fossilien ausgewählt worden, sondern bilden den Ist-Zustand der Natur zur damaligen Zeit ab. Somit erlauben sie einen unvoreingenommenen Überblick über die jurazeitliche Tierwelt.
---