16 May 2017
Public lecture by Dietrich Hahn:
Otto Hahn—A life devoted to science, humanity, and peace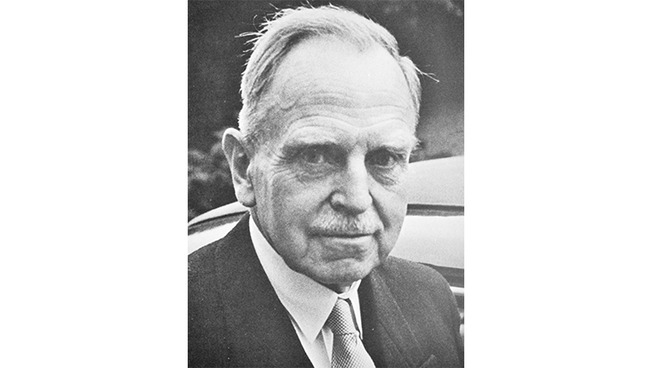 Photo: Portrait of Otto Hahn
Otto Hahn received the Nobel Prize in Chemistry for discovering the fission of heavy atomic nuclei.
Considered the father of nuclear chemistry, Otto Hahn nonetheless became one of the most vehement critics of nuclear armament. Journalist Dietrich Hahn will talk about his grandfather in an open colloquium hosted by the Department of Physics and the Verein der Freunde und Förderer der Physik at Universität Hamburg. [Read on in German]
Otto Hahn – Ein Leben für Wissenschaft, Menschlichkeit und Frieden
am Montag, dem 22. Mai 2017, um 17.00 Uhr
im Fachbereich Physik, Wolfgang Pauli-Hörsaal, Jungiusstraße 9, 20335 Hamburg.
Medienvertreterinnen und Medienvertreter sind zu dem Vortrag mit anschließender Diskussion bei Wein und einem Imbiss herzlich eingeladen.
Als Autodidakt setzt Dietrich Hahn sich seit Anfang der 1970er Jahre intensiv mit dem Wirken Otto Hahns und dessen Kollegin Lise Meitner auseinander. "Über Deinen lieben Großvater kann man gar nicht genug schwärmen, alle lieben ihn, alle verehren ihn, und ich ganz besonders. Bist Du Dir im Klaren, was es heißt sein Enkel zu sein?", fragte Lise Meitner ihren damals 19-jährigen Patensohn Dietrich bei ihrem letzten gemeinsamen Treffen 1965 in Cambridge. "Es ist ein Geschenk Gottes. Hast Du das eigentlich verdient, Burscherl?" Dass sich Dietrich Hahn seiner Verantwortung bewusst ist, beweist er seit mehr als 40 Jahren in zahlreichen Vorträgen und Veröffentlichungen. 1988 stiftete er die Otto-Hahn-Friedensmedaille in Gold für herausragende Verdienste um Frieden, Abrüstung und Völkerverständigung.
Otto Hahn entdeckte im Laufe seiner Karriere neue Isotope wie das Radium 228 sowie das Element Protactinium, den radioaktiven Rückstoß und die Kern-Isomerie des Urans Z. 1945 erhielt er den Chemie-Nobelpreis für die Entdeckung und den radiochemischen Nachweis der Kernspaltung des Urans 235. Noch im selben Jahr führten die Abwürfe von Atombomben auf Hiroshima und Nagasaki der Weltbevölkerung die immense Zerstörungskraft dieses Prozesses vor Augen. Otto Hahn war am Rande der Verzweiflung. Obwohl er nicht in die Entwicklung der US-amerikanischen Bomben involviert war, fühlte er sich verantwortlich für deren Opfer und beschloss, sein Leben dem Weltfrieden, der Völkerverständigung und der internationalen Entspannungspolitik zu widmen.
"Mit Freuden haben wir unser Leben in den Dienst der Wissenschaft gestellt. Sie ist, so glauben wir, ein Weg zu einem glücklicheren Leben der Menschen. Wir sehen mit Entsetzen, dass eben diese Wissenschaft der Menschheit Mittel in die Hand gibt, sich selbst zu zerstören", erklärte er 1955 als Initiator der Mainauer Kundgebung gegen die Anwendung von Kernwaffen – ein klares Statement, auf das viele weitere folgen sollten. So vertrat er die Bundesrepublik Deutschland auf den internationalen Konferenzen "Atome für den Frieden" 1955 und 1958 und unterstützte aktiv die "Petition der Naturforscher an die Vereinten Nationen" in New York und die Initiativen des Japanischen Rats gegen Atom- und Wasserstoffbomben in Tokyo.