16 May 2017
Species diversity at your doorstep:
Nature in the city: 200 tours of Hamburg's green oases (16–18 June 2017)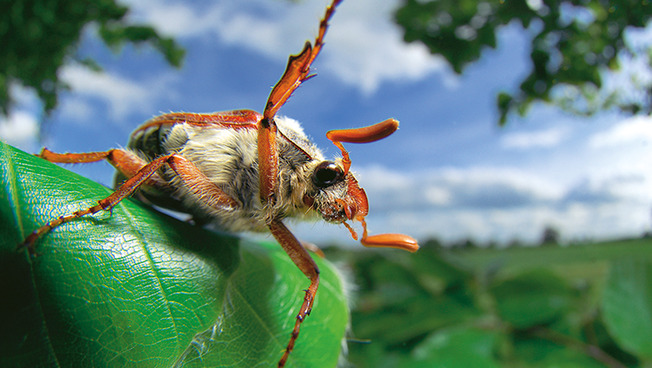 Photo: Solvin Zankl
From 16–18 June 2017 there will be roughly 200 tours throughout Hamburg to mark the Nature in the City event.
Hamburg is green—but green enough? What about species diversity in the city? How are climate change and urbanization changing city life? The Day of Urban Nature, The GEO-Tag der Natur e.V. and CeNak will be cooperating for the first time to host Hamburg's largest nature event (16–18 June 2017). Armed with binoculars and hand nets, plant and animal experts will be spreading throughout the city on 17 and 18 June by canoe, by bike, and on foot. The public is welcome to accompany them. There will be 200 exciting tours that will be made available today. [Read on in German]
An Elbe und Alster, auf den Boberger Dünen oder dem Energieberg Georgswerder sowie in vielen weiteren grünen Oasen der Stadt sind sie unterwegs: um die Natur zu genießen und die Vielfalt zu erkunden, aber auch, um Tier- und Pflanzengemeinschaften wissenschaftlich zu dokumentieren und damit einen Beitrag zum nachhaltigen Natur- und Umweltschutz in Hamburg zu leisten. Nach dem Motto: Du kannst nur schützen, was du kennst.
Bei der Auftaktveranstaltung mit Science Slam und Wissenschaftstheater am 16. Juni und der Präsentation der nachgewiesenen Arten am Abend des 18. Juni wird das Centrum für Naturkunde zum zentralen Veranstaltungsort.
Prof. Dr. Matthias Glaubrecht, Wissenschaftlicher Direktor des CeNak: "Weltweit und vor unserer Haustür sterben Tierarten schneller aus als wir sie erforschen können. Mit Veranstaltungen zur bedrohten Artenvielfalt und dem Einfluss des Klimawandels auf die Tier- und Pflanzenwelt möchten wir auf den Einfluss des Menschen in der Natur aufmerksam machen."
Axel Jahn, Geschäftsführer der Loki Schmidt Stiftung: "Lernen Sie Ihnen bekannte Orte mit neuen Augen sehen oder nutzen Sie die Gelegenheit, Gebiete und Flächen zu erkunden, die Sie schon immer kennenlernen wollten."
Christoph Kucklick, GEO-Chefredakteur: "Auf dem Land schwindet die biologische Vielfalt, in Städten steigt sie. Metropolen wie Hamburg sind, so unwahrscheinlich das klingt, Zufluchtsorte für Tiere und Pflanzen. Horte der Artenvielfalt also. Darauf möchten wir aufmerksam machen, mit unseren Exkursionen zu den natürlichen Schätzen der Hansestadt. Das verspricht Erkenntnis, nicht zuletzt aber auch: Spaß!"
Jens Kerstan, Schirmherr und Umweltsenator, Freie und Hansestadt Hamburg (Auszug Grußwort): "Dieses Jahr führen 200 Veranstaltungen in unberührte Moore, auf begrünte Dächer oder auf lärmumtoste Verkehrsinseln. Sie zeigen uns, wie schön, wie vielfältig, und auch wie zerbrechlich die Natur ist."
Alle Orte sind mit den öffentlichen Verkehrsmitteln oder dem StadtRad zu erreichen. Anmeldungen sind ab dem 30. Mai möglich.
Zum Programm: http://tagderstadtnaturhamburg.de/
Save the date: 30.05.2017 – Anmeldestart und Fototermin "Langer Tag der StadtNatur" @ LPK, Rathaus Hamburg mit Schirmherr Senator Kerstan und Gästen