9 May 2017
Symposium and research project in Gambia:
Research team at Universität Hamburg supports development of a digital national archive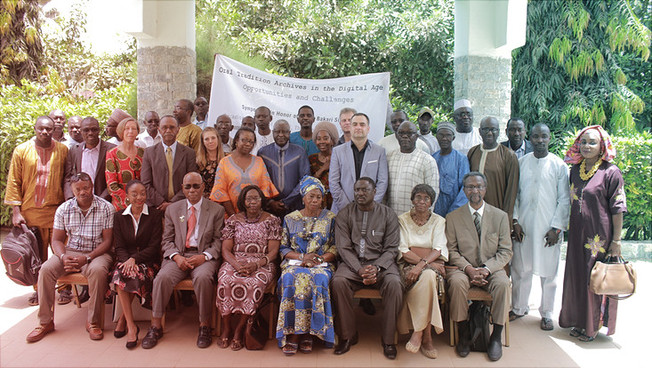 Photo: NCAC, The Gambia
Die Teilnehmenden des Symposiums zum "Digital National Archive Project" in Gambia.
Historical documents, artworks, and collective knowledge are crucial to a society's historical consciousness and identity. Political conflicts and social collapse often lead to the destruction of cultural heritage, e.g., the desecration of holy World Heritage Sites and writings in Timbuktu (Mali) in 2016. From 9–11 May, a symposium in Gambia is dedicated to the question of how best to support primarily African countries trying to archive and digitalize immaterial cultural goods such as historical sources that are handed down orally. The Department of African and Ethiopian Studies in the Asien-Afrika-Institut (AAI) will be taking part. [Read on in German]
Die Veranstaltung findet im Rahmen des 2016 gestarteten "Digital National Archive Project" statt, das gemeinsam vom National Centre for Arts and Culture (NCAC) Gambia und dem AAI unter Leitung von Prof. Dr. Henning Schreiber, Professor für Afrikanistik mit dem Schwerpunkt Spra­che im Kontext, durchgeführt und von der Gerda Henkel Stiftung unterstützt wird. Ziel des Projektes ist die Digitalisierung des gambischen Nationalarchivs – in Zusammenarbeit mit den Partnern des NCAC.
Das Nationalarchiv in Gambia ist eine Besonderheit, da umfassende wissenschaftliche und vor allem säkulare Sammlungen oraler Traditionen in Afrika selten sind. Der Fokus des NCAC-Archivs liegt auf mündlichen Überlieferungen und dokumentiert in rund 6.000 Audioaufzeichnungen sowie 500 ergänzenden Dokumenten die Geschichte Westafrikas, insbesondere Gambias, Senegals, Guinea-Bissaus und Malis.
"Unser Ziel ist es, die Digitalisierung dieses Archivs vorzubereiten und so umzusetzen, dass es von der Wissenschaft genutzt, aber auch der Öffentlichkeit in sinnvoller Art und Weise zugänglich gemacht werden kann", sagt Prof. Henning Schreiber. So sei es zum Beispiel nicht ausreichend, die Aufnahmen digital in eine Datenbank einzustellen; sie müssten vielmehr mit Metadaten und Kontext versehen und so verständlich gemacht werden. Dafür werden die Dateien von Wissenschaftlerinnen und Wissenschaftlern vor Ort und aus Hamburg transkribiert, ins Englische übersetzt und kommentiert. Das AAI arbeitet bereits seit 1989 mit dem NCAC zusammen und hat jahrzehntelange Erfahrung in der Analyse mündlicher Texte in afrikanischen Sprachen. Mit dem Hamburger Zentrum für Sprachkorpora stellt die Universität Hamburg die notwendige technische Infrastruktur und das Know-how zur Implementierung entsprechend zugänglicher Plattformen zur Verfügung.
Das Thema Digitalisierung ist für das kulturelle Erbe in Staaten wie Gambia, wo im Jahr 2016 ein politischer Systemwechsel friedlich stattfand, aus verschiedenen Gründen relevant. "Zum einen geht es um den Erhalt und Schutz der Werke selbst. Sie sollen vor willentlicher Zerstörung, aber auch vor unzureichenden Lagerbedingungen bewahrt werden", so Schreiber. Zum anderen sei es durch die Digitalisierung aber auch möglich, die Originale bei den lokalen Forschungseinrichtungen zu belassen und sie dennoch weltweit zugänglich zu machen. Beim Symposium werden die Herausforderungen der Digitalisierung insbesondere mündlicher Überlieferungen sowie ihre Chancen für den Erhalt des kulturellen Erbes im Vordergrund stehen.
Mehr als 20 Wissenschaftlerinnen, Wissenschaftler und politische Entscheider aus Afrika, den USA, Großbritannien und Deutschland werden darüber sprechen, wie digitale Archive aufgebaut, erhalten und genutzt werden können. Ehrengäste sind unter anderem Alhaji Bakary Sidibe, der Gründer des Nationalarchivs des NCAC, der Minister für Tourismus und Kultur Gambias, Hamat N.K. Bah, sowie der Botschafter Gambias bei den Vereinten Nationen, Dr. Momodou Tangara.
Mehr Informationen: https://oraltraditionsinthedigitalage.wordpress.com/
---
Für Rückfragen:
Prof. Dr. Henning Schreiber
Universität Hamburg
Asien-Afrika-Institut
Tel: +49 40 42838-4873 [erst ab der kommenden Woche wieder]