24 April 2017
Third round of Science on Tap in Hamburg
Universität Hamburg and DESY invite inquiring minds to join them at the pub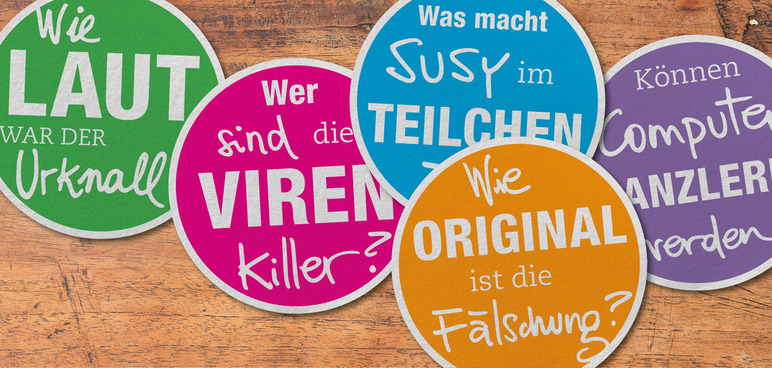 Photo: DESY und Universität Hamburg
Hamburg researchers answer interesting questions at the third round of Science on Tap.
On Thursday, 27 April, inquiring minds can slake their thirst for knowledge at the third annual Science on Tap. Hamburg researchers will be talking about their current work in about 45 pubs throughout Hamburg, giving half-hour talks and entertaining insights into their research. What does the dark side of the universe look like? Why do male spiders die after sex? And are machines set to take over the world? In addition to topics from the natural sciences, this year's event will include topics from the humanities and social sciences such as the curse of the pirates and emojis as digital punctuation marks.
Read on in German...
"Wissen vom Fass" ist eine Veranstaltung des Forschungszentrums DESY und der Universität Hamburg unter der Schirmherrschaft der Hamburger Senatorin für Wissenschaft, Forschung und Gleichstellung, Katharina Fegebank.
Universitätspräsident Prof. Dr. Dieter Lenzen: "Für die Universitäten wird es immer bedeutungsvoller, dass sie ihre Leistungen und Tätigkeit in Forschung und Lehre einem breiten Publikum zur Kenntnis geben, durchaus auch in alltäglichen Zusammenhängen. Dazu eigenen sich Gaststätten in besonderer Weise."
Prof. Dr. Helmut Dosch, Vorsitzender des DESY-Direktoriums, sagt: "'Wissen vom Fass´ ist für uns Forscher eine gute Gelegenheit, um gemütlich bei einem Glas Bier zu zeigen, dass Wissenschaft spannend, faszinierend und wichtig, aber keinesfalls abgehoben oder lebensfern ist. Wissenschaft gehört in die Mitte der Gesellschaft, und der direkte Austausch mit den Menschen ist dafür essentiell."
Prof. Dr. Jan Louis, Vizepräsident der Universität Hamburg und Initiator der Veranstaltung, sagt: "Ich freue mich sehr, dass das Format 'Wissen vom Fass' von den Hamburgerinnen und Hamburgern so gut angenommen wird. Gerade in Zeiten von 'Fake News' zeigt die Veranstaltung, wie wichtig Wissenschaft für die Gesellschaft ist. Persönlich freue ich mich am meisten auf den Austausch mit dem Publikum, weil die Offenheit und das Interesse an unserer Forschung, die wir hier in Hamburg betreiben, in einem unkonventionellen Raum zu einer ganz besonderen Atmosphäre beiträgt. Der Moment, wenn sich die eigene Faszination für ein wissenschaftliches Thema auf die Zuhörer überträgt, ist einzigartig."

Die Veranstaltung "Wissen vom Fass" will neugierige Besucherinnen und Besucher mit spannenden Fragen in lockerer Kneipenatmosphäre für Wissenschaft begeistern. Die Idee für das Format brachte Prof. Louis aus Tel Aviv in Israel mit. Die dortige Veranstaltung "Science on Tap" ist seit langem ein großer Erfolg. Die Idee für eine deutsche Auflage stieß bei DESY und Universität sofort auf offene Ohren. Beteiligt sind außerdem der Exzellenzcluster "The Hamburg Centre for Ultrafast Imaging", der Sonderforschungsbereich "Particles, Strings and the Early Universe" und PIER, die strategische Partnerschaft zwischen DESY und der Universität Hamburg.
Ihre Premiere hatte die Veranstaltung "Wissen vom Fass" im Oktober 2015, die zweite Runde folgte im November 2016. Ab jetzt soll "Wissen vom Fass" jährlich im Frühjahr stattfinden.
Einen Überblick über teilnehmende Kneipen und alle Vorträge finden Sie unter:
www.wissenvomfass.de und www.facebook.com/wissenvomfass