18 April 2017
A museum emerges:
Invitation to exhibition opening in the new entry hall of the Zoological Museum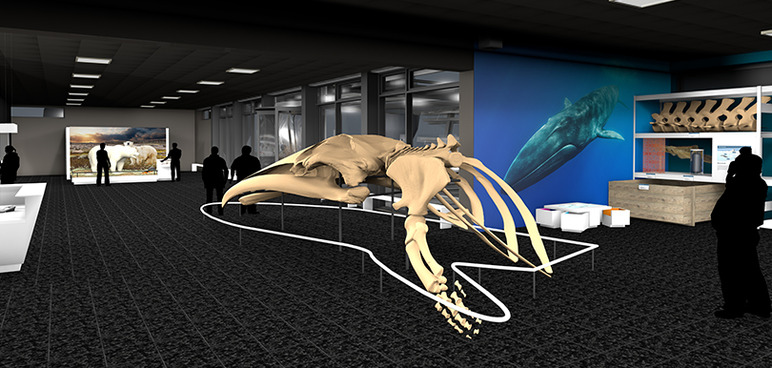 Photo: FRAMEGRABBER Medien GmbH
The new exhibition is open to the public as of 28 April.
Barrier-free, modern, interactive—the new entry hall at the Zoological Museum of the Center for Natural History (CeNak) at Universität Hamburg gives a foretaste of what natural history museums might look like in the 21st century. The new exhibition "MenschenZeit—Naturwelt" ("The Human Era and the Natural World) presents natural history in a modern design and provides an exemplary view of the Evolutioneum. The media are cordially invited to the opening on 27 April 2017.
Read on in German...
Ausstellungseröffnung mit Pressetermin
am Donnerstag, dem 27. April 2017, um 14 Uhr,
im Centrum für Naturkunde der Universität Hamburg, Zoologisches Museum,
Martin-Luther-King-Platz 3, Eingang Bundesstraße 52, 20146 Hamburg.
Nach einer Begrüßung durch Prof. Dr. Dieter Lenzen, Präsident der Universität Hamburg, und einem Grußwort von Wissenschaftssenatorin Katharina Fegebank wirft CeNak-Direktor Prof. Dr. Matthias Glaubrecht einen Blick in die Zukunft. Im Anschluss wird Enno N. Maass, Geschäftsführer der "aac Academy of Architectural Culture", die Sonderausstellung zu Architektur-Entwürfen für ein Evolutioneum vorstellen. Ablauf: ab 13.30 Uhr Einlass, 14 Uhr: Reden, 15 Uhr: Fototermin, 15–15.30 Uhr: Möglichkeit für Interviews.
Um das neugestaltete Foyer vorzustellen und die Hamburger Öffentlichkeit auf dem Weg zu einem Evolutioneum mitzunehmen, wird es vom 28.–30. April zudem ein umfangreiches Aktions-Programm für die Besucherinnen und Besucher geben, bei dem unter anderem Führungen durch die wissenschaftlichen Sammlungen des Zoologischen Museums angeboten werden: https://www.cenak.uni-hamburg.de/aktuelles/foyer-eroeffnung.html
---
Für Rückfragen und Anmeldung:
Mareen Gerisch
Centrum für Naturkunde (CeNak)
Tel: +49 40 42838-8846