12 April 2017
Invitation to the press
Introduction to the 23rd international conference Performance Studies international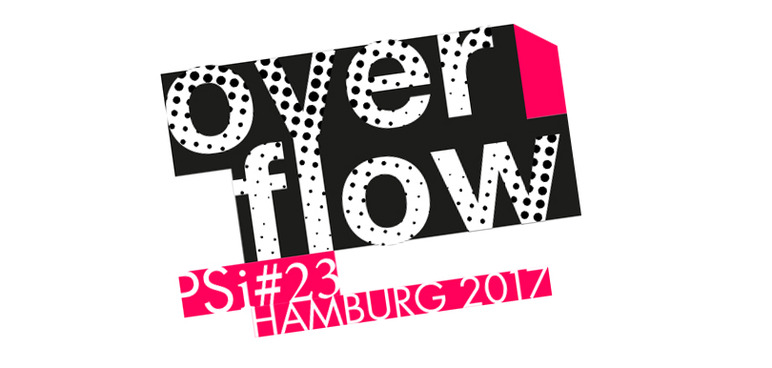 Photo: PSi#23
The Performance Studies international conference takes place from 8 to 11 June in Hamburg.
From 8 to 11 Juni 2017 Performance Studies at Universität Hamburg in cooperation with the performing arts center Kampnagel will host the international conference Performance Studies international. The conference will take place as part of the Theater der Welt festival. Members of the media and the public are warmly invited to attend an introduction to the conference program of the 23rd international conference entitled PSi#23 OverFlow.
Read on in German . . .
Vorstellung des Programms des 23. Internationalen Fachkongresses
"PSi#23 OverFlow"
am 25. April 2017, um 11.00 Uhr,
Kampnagel, Jarrestraße 20, 22303 Hamburg.
Um eine kurze Anmeldung bis zum 21. April wird gebeten.
Das Programm dieser weltweit größten Fachtagung im Bereich der szenischen Künste findet zum ersten Mal in Hamburg statt. Mehr als 300 Referentinnen und Referenten aus rund 40 Ländern werden dazu anreisen. Mehr als 800 Akademikerinnen und Akademiker sowie Künstlerinnen und Künstler werden sich an vier Konferenztagen mit dem Leitthema "OverFlow" beschäftigen. Nicht der Mangel oder der Verlust, die derzeit die öffentlichen Debatten beherrschen, stehen hierbei im Fokus, sondern ihr Gegenteil: der "ÜberFluss" in all seinen positiv wie negativ besetzten Spielarten. Die Keynote-Vorträge, u. a. von Vandana Shiva, Didier Eribon, Carolin Emcke und Tim Etchells, sind öffentlich und ohne Konferenzgebühren zugänglich.
Bei dem Pressegespräch wird das Konferenzteam – bestehend aus Prof. Dr. Gabriele Klein (Sprecherin, Professorin für Soziologie und Psychologie von Bewegung, Sport und Tanz), Amelie Deuflhard (Künstlerische Leiterin Kampnagel), Prof. Dr. Martin Jörg Schäfer (Professor für Neuere deutsche Literatur/Theaterforschung) und Prof. Dr. Wolfgang Sting (Professor für Erziehungswissenschaft – Theaterpädagogik/Didaktik des darstellenden Spiels) – das Programm vorstellen.
Der Kongress "PSi#23 OverFlow" wird gefördert durch die Behörde für Wissenschaft, Forschung und Gleichstellung (BWFG) sowie die Deutsche Forschungsgemeinschaft (DFG). Er steht unter der Schirmherrschaft von Katharina Fegebank, Wissenschaftssenatorin und Zweite Bürgermeisterin der Freien und Hansestadt Hamburg.
Weitere Informationen: https://psi2017-hamburg.com