30 March 2017
General Lecture Series commences in April with 27 public lecture series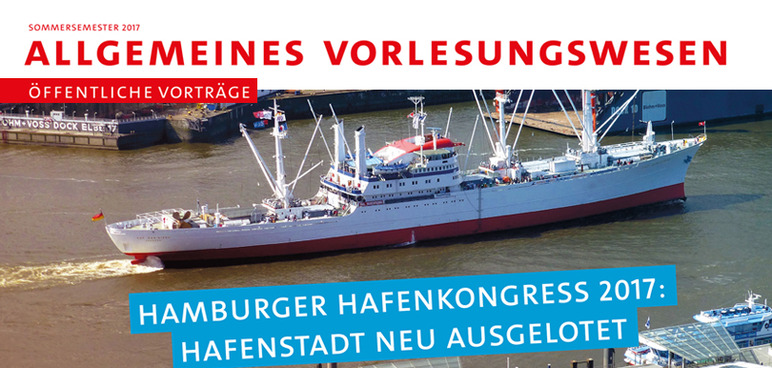 Photo: AWW
General Lecture Series commences in April with 27 public lectures
In the summer semester Universität Hamburg is once again offering a comprehensive program of public lectures. With a great variety of topics covered in around 300 individual lectures, the General Lecture Series takes listeners on a journey through current questions in science, research, and society. The lectures take place largely in the evenings and are free of charge. No registration is required.
Read on in German . . .
Ein besonderes Highlight ist diesmal der Hamburger HafenKongress 2017, der unter dem Titel "Hafenstadt neu ausgelotet" vom 26. Mai bis 2. Juni vielseitige Einblicke in die Forschung zu Hafen und Wasser an den Hamburger Hochschulen gibt. Der Kongress findet im Rahmen des Festivals "Theater der Welt" statt. An sechs Abenden stellen jeweils vier Wissenschaftlerinnen und Wissenschaftler aus unterschiedlichsten Fächern ihre Forschungen zur Hafenstadt kurz vor und diskutieren diese sowohl untereinander als auch mit dem Publikum. Lesungen literarischer Textausschnitte zum Hamburger Hafen schließen die Vortrags- und Diskussionsrunden ab und schlagen zugleich die Brücke zu den nachfolgenden Theatervorstellungen. Das Vortragsprogramm ist kostenlos, Karten zu den Theateraufführungen können bei den Theatern erworben werden.
Die maritime Thematik wird in den Vortragsreihen "OzeanoGraphien: Von Meeresbildern, Schiffsdarstellungen und Seemannsgarn" sowie "Flows of Change: Rivers, Megacities and Mobility in Southeast Asia" aufgenommen. Weitere Ringvorlesungen beschäftigen sich mit Themen wie "(Fast) 100 Jahre Universität Hamburg" oder "Welche Auswirkungen hat die Stadt-Umwelt auf Wohlbefinden und Gesundheit? Eine Standortbestimmung". Zudem gibt es Vortragsreihen aus Geschichtswissenschaft, Pädagogik und Soziologie, Medizin, Philosophie und Theologie, Mathematik und Naturwissenschaften sowie zu Studienorientierung und Karriereplanung.
Das vollständige Programm finden Sie im Internet unter: www.aww.uni-hamburg.de/av.html
Das Programmheft mit allen Themen und Terminen liefert Hintergrundinformationen zu den Vorlesungen und Hinweise auf weitere kulturelle und universitäre Angebote. Das Heft liegt in der Arbeitsstelle für wissenschaftliche Weiterbildung, im Hauptgebäude der Universität und an vielen anderen öffentlichen Orten der Stadt aus. Gegen eine geringe Gebühr kann es auch abonniert werden.
Auskünfte und Programm-Abonnement:
Daniela Steinke
Universität Hamburg, Arbeitsstelle für wissenschaftliche Weiterbildung
Schlüterstr. 51, 20146 Hamburg
Tel.: +49 40 42838-9714, -9700 (Infotelefon)
E-Mail: av@uni-hamburg.de