27 March 2017
Science Sundays: current botanical research in Loki Schmidt House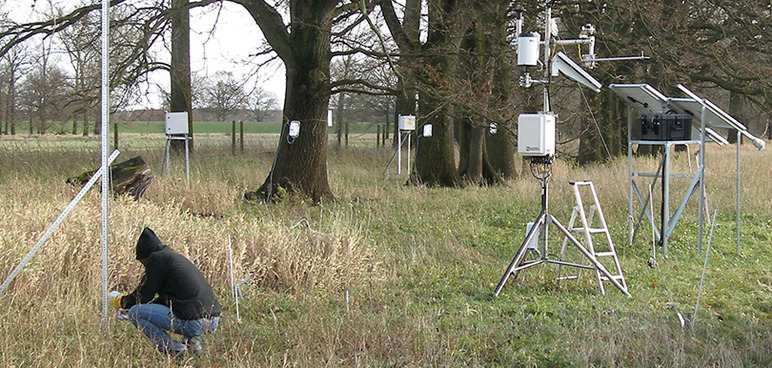 Photo: Dr. Christoph Reisdorff
Installation of a measuring system to analyze water economy in plants
The Biocenter Klein Flottbek at Universität Hamburg presents a new scientific outreach event in Loki Schmidt House—Museum for Useful Plants: Science Sundays. Come along and find out all about current research on plants at the Biocenter as well as the work of the Museum.
Read on in German . . .
Forscherinnen und Forscher erläutern ihre Forschungsfragen und Methoden, zeigen Experimente und laden die Gäste zum Mitmachen und Diskutieren ein. Wie Pflanzen mit sich verändernden Umweltbedingungen klarkommen, ist Thema des ersten Wissenschaftssonntages:
"Klima-Stress-Wandel"
am Sonntag, dem 2. April 2017, von 14.00 bis 15.30 Uhr
im Loki Schmidt Haus, Ohnhorststr. 18, 22609 Hamburg.
Fragestellungen sind unter anderem: Mit welchen Methoden können Stressreaktionen von Pflanzen auf extreme Trockenheit, Nässe, Licht oder Hitze gemessen und sichtbar gemacht werden? Können sich Pflanzen vor Krankheiten schützen? Wie geht Weizen mit einer Pilz-Invasion um? Was lösen Metallverbindungen aus, wenn sie von Pflanzenwurzeln aufgenommen werden? Welchen Einfluss hat z. B. Aluminium auf das Wachstum der Pflanzen?
Die weiteren Wissenschaftssonntage finden statt am:
4. Juni 2017 (14.00 bis 15.30 Uhr) zum Thema: "Züchtung – Gene – Technik" – Wozu braucht Pflanzenforschung Gene?
6. August 2017 (13.00 bis 16.30 Uhr) zum Thema: "Da wird die Küche zum Labor – geht Pflanzenforschung auch zu Hause?" – Ferienprogramm für Familien
1. Oktober 2017 (14.00 bis 15.30 Uhr) zum Thema: "Gelder – Nutz(en) – Pflanzen" – Was nutzt uns moderne Pflanzenforschung?
Das Loki Schmidt Haus – Museum für Nutzpflanzen der Universität Hamburg ist von März bis Oktober donnerstags von 13-17 Uhr und an Sonn- und Feiertagen von 11-17 Uhr geöffnet. Der Eintritt ist frei. Angebote für Gruppen sind ganzjährig nach Vereinbarung buchbar, Tel.: +49 40 42816-570. Weitere Infos unter: www.loki-schmidt-haus.de.