23 February 2017
Distant habitats?
Invitation to opening of exhibition in Loki Schmidt House, Museum for Useful Plants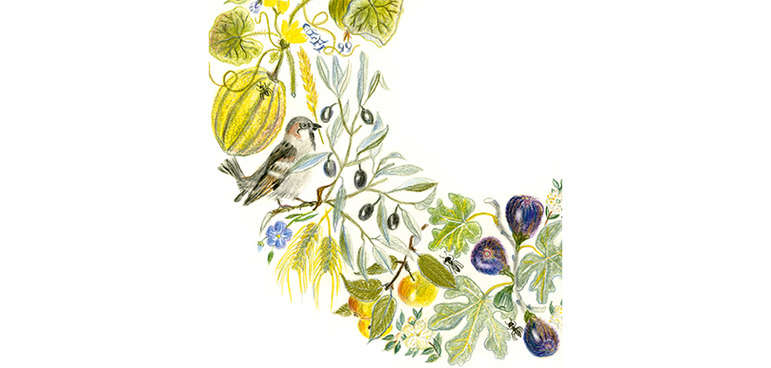 Photo: Elfi Ekhoff
The work entitled "Blumenkranz" is part of the new special exhibition in Loki Schmidt House, Museum for Useful Plants.
The collection at Loki Schmidt House has grown in size by more than 100 drawings and aquarelles by artist Elfi Eckhoff from her series "Plants and Animals of the Bible." The latest special exhibition provides insight into these works. Interested members of the public and the media are warmly invited to attend the opening of the exhibition "Distant Habitats? Plants and Animals of the Bible."
Read on in German . . .
"Ferne Lebenswelten? – Pflanzen und Tiere der Bibel"
Aquarelle und Zeichnungen von Elfi Ekhoff
am Donnerstag, dem 2. März 2017, um 14 Uhr,
Ohnhorststr. 18, 22609 Hamburg.
Der Eintritt ist frei.
Die Ausstellung führt zurück in die Entstehungszeit der Bibel: Die Aquarelle und Zeichnungen mit Motiven biblischer Pflanzen und Tiere werden mit dem Blick auf Alltag, Ackerbau und Viehzucht sowie Handel und Symbolik dieser antiken Lebenswelt vorgestellt. Wie sah das tägliche Leben im Land der Bibel jener Zeit aus? Was berichtet das "Buch der Bücher" über die Beziehungen der Menschen zur Natur in einer von Landwirtschaft geprägten Gesellschaft? Gelingt es, vom damaligen Umgang der Menschen mit der Natur einen Bogen in unsere Gegenwart zu schlagen?
Zudem startet am 5. März der erste einer Reihe von Museumssonntagen, die begleitend zur Sonderausstellung mit Ausstellungsrundgängen, Vorträgen, Gesprächen und Live-Zeichnen der Künstlerin Elfi Ekhoff ein abwechslungsreiches Programm bieten. Die Sonderausstellung endet am 31. Oktober 2017 mit der Finissage "Reality-Check – Wie sieht unsere Lebenswelt heute aus?".
Das Nutzpflanzenmuseum der Universität Hamburg ist von März bis Oktober donnerstags von 13–17 Uhr und an Sonn- und Feiertagen von 11–17 Uhr geöffnet. Angebote für Gruppen ganzjährig nach Vereinbarung (Tel.: 040 428 16 570). Weitere Infos unter www.loki-schmidt-haus.de.
---
Für Rückfragen:
Dr. Petra Schwarz
Loki Schmidt Haus
Museumsleiterin
Tel: +49 40 42816-583