17 January 2017
New Emmy Noether Group granted 1.1 million euros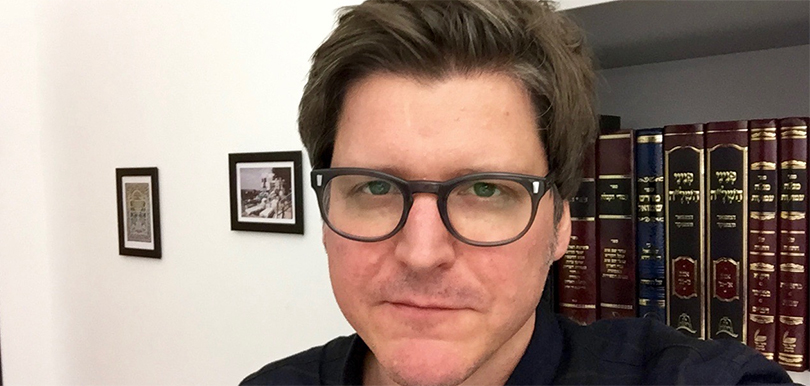 Photo: UHH/Koch
Dr. Patrick Benjamin Koch from the Institute of Jewish Philosophy and Religion at Universität Hamburg
Dr. Patrick Benjamin Koch from the Institute of Jewish Philosophy and Religion at Universität Hamburg has been accepted to the Emmy Noether Program run by the DFG. He will receive €1.1 million to establish a young researchers group on the topic of Jewish moralistic literature of the early modern period, 1600 to 1800. The group of four young researchers is due to take up work in summer 2017 and will receive funding for four years.
Read on in German...
Das umfangreiche literarische Korpus der jüdisch-moralistischen Literatur (Hebräisch musar) erfreut sich in einem traditionell-jüdischen Kontext großer Beliebtheit; in der Frühen Neuzeit zählte musar zu den populärsten jüdischen Literaturen. Es gibt allerdings kaum wissenschaftliche Studien, die diesen Forschungsgegenstand eingehender untersuchen. Die Emmy Noether-Nachwuchsforschergruppe soll dieses Defizit beheben, indem sie ein Inventarium erstellt, das musar-Werke, die zwischen 1600 und 1800 produziert wurden, systematisch dokumentiert. Das Inventarium, das hebräische, jiddische, judeo-spanische und portugiesische Schriften beinhalten wird, soll dabei nicht nur klassische bibliographische Daten umfassen, sondern insbesondere auf die Struktur und den Inhalt der Werke, die von den Verfassern formulierten Zielsetzungen, die intendierte Leserschaft und die in den Werken namentlich erwähnten, zitierten oder paraphrasierten Schriften eingehen.
Die am Institut für Jüdische Philosophie und Religion angesiedelte Emmy Noether-Gruppe ist die erste ihrer Art in der Judaistik bzw. den Jüdischen Studien in Deutschland. In den individuell durchgeführten Forschungsprojekten werden die Mitarbeiterinnen und Mitarbeiter die Möglichkeit haben, die im Gemeinschaftsprojekt zusammengetragenen Basisdaten auszuwerten. Unter Verwendung verschiedener methodischer Ansätze sollen unter anderem bestimmte Schulen, literarische Genres und literarische Strategien identifiziert sowie die Bedeutung von musar im Transformationsprozess theoretischer Diskurse in religiöse Alltagspraktiken erforscht werden.
Universitätspräsident Prof. Dr. Dieter Lenzen erklärte: "Ich gratuliere Dr. Patrick Benjamin Koch zu der Einwerbung der Emmy Noether-Gruppe, die die erste in diesem Fachzusammenhang in Deutschland sein wird, und wünsche der Projektgruppe viel Erfolg und einen guten Start."
Das Emmy Noether-Programm der DFG fördert herausragende Nachwuchswissenschaftlerinnen und -wissenschaftler, um sie so für wissenschaftliche Führungsaufgaben zu qualifizieren. Dr. Patrick Benjamin Koch studierte Judaistik und Religionswissenschaften an der Freien Universität Berlin. 2003 wechselte er an die Hebräische Universität Jerusalem, wo er 2007 seinen Masterabschluss absolvierte. 2012 promovierte er dort am Department of Jewish Thought. Nach Postdoc-Stationen an der Humboldt-Universität zu Berlin und am Center for Jewish History in New York arbeitet er seit 2014 als wissenschaftlicher Mitarbeiter an der Universität Hamburg.
---
Für Rückfragen:
Dr. Patrick Benjamin Koch
Institut für Jüdische Philosophie und Religion
Tel: +49 40 42838-4740