5 November 2015
Are print newspapers becoming a niche product?
Informative discussion on the future of print media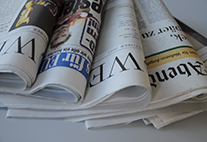 Photo: UHH/Sukhina
Die Auflage der Printmedien sinkt, weil immer mehr Menschen digitale Medien nutzen.
Prof. Dr. Michel Clement and Prof. Dr. Christian-Mathias Wellbrock from the interdisciplinary Research Center for Media and Communication (RCMC) at Universität Hamburg warmly invite you to join them in an informative discussion on the future of the newspaper on Wednesday, 11 November 2015. [ Read on in German]
Zum 1. Mai 2014 verkaufte der Axel-Springer-Verlag etablierte Printmarken wie das "Hamburger Abendblatt" oder die "Berliner Morgenpost" an die Funke Mediengruppe. Beispiele wie diese zeigen: Die Medienhäuser befinden sich im Umbruch, weil die Auflagen der Printmedien sinken und immer mehr Menschen digitale Informationsangebote nutzen.
Prof. Dr. Michel Clement und Prof. Dr. Christian-Mathias Wellbrock vom interdisziplinären Research Center for Media and Communication (RCMC) der Universität Hamburg befassen sich seit längerem mit dieser Entwicklung auf dem Medien-Markt. Sie gehen davon aus, dass Verlagshäuser, die weiterhin vorrangig auf Printprodukte setzen, in Zukunft finanziell unter Druck geraten werden, da sich der Werbemarkt immer mehr in die Online-Medien verlagert. Nur starke Printmedien, die Star-Journalistinnen und -Journalisten fördern und exklusive Inhalte bieten, werden sich am Markt behaupten können.
Prof. Clement und Prof. Wellbrock laden herzlich ein zu der Informations- und Diskussionsveranstaltung
Die Zukunft der Zeitung
am Mittwoch, dem 11. November 2015, von 18.00 – 20.00 Uhr,
im Hauptgebäude der Universität Hamburg, Flügelbau West, Raum 221,
Edmund-Siemers-Allee 1, 20146 Hamburg.
Medienvertreterinnen und -vertreter sind herzlich willkommen.
Anmeldungen werden erbeten unter: jessica.kurre"AT"uni-hamburg.de
Im Rahmen der Veranstaltung diskutieren sowohl Manager aus der Verlagsbranche, Mediaplanung und Marktforschung als auch Journalisten mit den Wissenschaftlern und der Öffentlichkeit.
Die Veranstaltung wird gefördert von der ZEIT-Stiftung Ebelin und Gerd Bucerius.
Das RCMC bündelt die medienbezogene Forschung an der Universität Hamburg in vier Fakultäten und koordiniert sie mit den Forschungsaktivitäten am Hans-Bredow-Institut. Es ist das größte medienwissenschaftliche Netzwerk in Deutschland und eines der größten in Europa.
Für Rückfragen:
Prof. Dr. Michel Clement
Universität Hamburg
Fakultät für Betriebswirtschaft, Marketing & Media
Tel.: +49 40 428 38-8721
E-Mail: michel.clement"AT"uni-hamburg.de
Additional links