4 November 2015
Hamburg opens its doors to the Night of Knowledge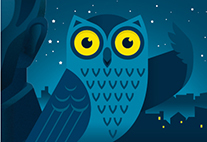 Photo: NDWHH
Die Universität Hamburg ist mit mehr als 200 Programmpunkten bei der Nacht des Wissens vertreten.
Robots that can play soccer, laser fridges, or the supermarket shelf of the future: these are just a few of the exciting aspects of research on show at Universität Hamburg during the Night of Knowledge on 7 November 2015. Scientists and scholars will give the public a taste of current research via presentations, experiments, and interactive exhibits at 14 locations around the University. This year, the University is showcasing its scientific collections. [ Read on in German]
Im Ostflügel des Hauptgebäudes (Edmund-Siemers-Allee 1) präsentieren sich zwischen 17 und 24 Uhr 16 wissenschaftliche Sammlungen der Universität unter dem Motto "Sammeln". Große und kleine Besucherinnen und Besucher können dort zum Beispiel Sammelkästen für ihre eigene Sammlung bauen und erfahren in einer Mitmach-Ausstellung mit Präsentationen, Vorträgen und Vorführungen Näheres über die Bedeutung des wissenschaftlichen Sammelns. Dazu erklären Wissenschaftlerinnen und Wissenschaftler ihre Arbeit an den fünf Stationen "Sammeln", "Systematisieren", "Präparieren", "Erhalten" und "Forschen". Zudem warten 26 Postkarten mit unterschiedlichen Motiven darauf, gesammelt, geordnet und verschickt zu werden. In einem Forschungszelt gewähren Kurzfilme einen Blick in verschiedene Sammlungen der Universität Hamburg.
Die Ausstellung der Sammlungen ist nur ein Teil des mehr als 200 Punkte umfassenden Programms, mit dem sich die Universität an der Nacht des Wissens in Hamburg beteiligt. Im Westflügel des Hauptgebäudes wird beispielsweise ein intelligentes Verkaufsregal der Zukunft präsentiert, während beim RoboCup menschenähnliche Roboter Fußball gegeneinander spielen. Die drei Standorte des Centrums für Naturkunde (CeNak) begeben sich unter anderem mit Pollen und Sporen auf die Spur des Klimas und lassen die Eiszeit wieder aufleben. In Bergedorf macht sich die Sternwarte auf die Suche nach der Dunklen Materie und das Zentrum für Holzwirtschaft informiert über die Funktionen von Wäldern, ihre Klimatricks sowie die DNA von Holz. Die Nacht des Wissens richtet sich sowohl an Erwachsene als auch an Kinder. Alle Einrichtungen werden mit kostenlosen Bus-Shuttles angefahren. Der Eintritt ist frei.
Universitätspräsident Prof. Dr. Dieter Lenzen: "Ich lade alle Hamburgerinnen und Hamburger herzlich ein, bei der Nacht des Wissens an der Universität Hamburg mit unseren Wissenschaftlerinnen und Wissenschaftlern ins Gespräch zu kommen und einen Einblick in die vielfältige und spannende Forschung an unserer Hochschule zu bekommen."
Die 14 Standorte der Universität Hamburg im Überblick:
Hauptgebäude und Flügelbauten (diverse Fakultäten, Fachbereiche und Institute, Mitmach-Ausstellung "Sammeln")
Edmund-Siemers-Allee 1, 20146 Hamburg


Manuskriptkulturen in Asien, Afrika und Europa
Warburgstraße 26, 20354 Hamburg


Institut für Psychologie
Von-Melle-Park 5, 20146 Hamburg


Universitätsmusik
Neue Rabenstraße 13, 20354 Hamburg


Archäologisches Institut
Grindelallee 34, 20146 Hamburg


Zoologisches Museum und Zoologisches Institut
Martin-Luther-King-Platz 3, 20146 Hamburg


Fachbereich Mathematik, Geologisch-Paläontologisches Museum und CliSAP
Bundesstraße 55, 20146 Hamburg


Mineralogisches Museum
Grindelallee 48, 20146 Hamburg


Fachbereich Physik
Jungiusstraße 9-11, 20355 Hamburg


Zentrum für Holzwirtschaft, Thünen-Institute
Leuschnerstraße 91, 21031 Hamburg


Hamburger Sternwarte
August-Bebel-Straße 196, 21029 Hamburg


CUI – The Hamburg Centre for Ultrafast Imaging, Zentrum für optische Quantentechnologien (ZOQ)
Luruper Chaussee 149, 22761 Hamburg


Biozentrum Klein Flottbek
Ohnhorststraße 18, 22609 Hamburg


Carl Friedrich von Weizsäcker-Zentrum für Naturwissenschaft und Friedensforschung (ZNF)
Beim Schlump 83, 20144 Hamburg