22 January 2015
International Year of Soils
Institute of Soil Science holds open house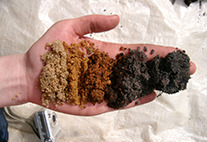 Photo: IfB/Pfeiffer
Diverse Bodenproben
Healthy soils form the basis of food production, filter and store water, and play a significant role in the climate. In order to draw attention to these functions as well as to the maniffold threats to soils, the United Nations has deemed 2015 the "International Year of Soils."
The Institute of Soil Science at Universität Hamburg will also be hosting an array of activities on the functions, endangerment, and protection of soils. Events will be inaugurated by an

Open House
Wednesday,  28 January 2015,
9–5 pm
Institute of Soil Science,
Allende-Platz 2, 20146 Hamburg.
Read on in German...

Forscher geben Einblicke in ihre Forschung in Norddeutschland, in der sibirischen Arktis, Südamerika und dem südlichen Afrika. Zur Bestimmung der Eigenschaften des Bodens vor der eigenen Tür können Besucher Bodenproben mitbringen.
Programm und nähere Informationen
Weitere Aktionen folgen am 11. und 21. Februar mit einem Spaziergang von den Landungsbrücken zu Bodenschätzen in Hamburg. Am 10. März gibt es eine Exkursion zu Böden in der Nordheide, die einen Blick zurück in die Eiszeit erlauben. Und im April beginnt eine öffentliche Ringvorlesung zum Thema "Böden im Umwelt- und Klimasystem: Nachhaltigkeit und globale Verantwortung".
Aktuelle Veranstaltungen des Instituts für Bodenkunde zum internationalen Jahr des Bodens
Um Anmeldung für die Exkursionen wird gebeten: ifb"AT"uni-hamburg.de
Download des Bildmaterials:
für Druck
für Bildschirmzwecke
Bild: IfB/Pfeiffer
Gesunde Böden sind die Grundlage unserer Nahrungsmittelproduktion
Download des Bildmaterials:
für Druck
für Bildschirmzwecke
Bild: IfB/Gröngröft
Böden filtern und speichern Wasser und sind von entscheidender Bedeutung für unser Klima
Für Rückfragen und Fotomaterial:
Prof. Dr. Eva-Maria Pfeiffer
Institut für Bodenkunde (IfB)
Centrum für Erdsystemforschung und Nachhaltigkeit (CEN)
Tel.: 040 42838-4194
E-Mail: eva-maria.pfeiffer"AT"uni-hamburg.de
---