24 September 2015
WDR-Maus Open the Door Day
Experiments and surveys for children aged eight and over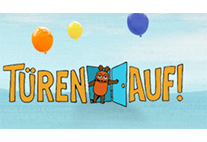 Photo: WDR
WDR-Maus
The research lab in the Faculty of Business, Economics and Social Sciences invites all children and WDR-Maus fans aged eight and over to the 2015 Open the Door Day of the "Sendung mit der Maus."
When and where:
3 October 2015 from 11 am to 3 pm
Survey lab (Forschungslabor)
Faculty of Business, Economics and Social Sciences
Stairs D, Room 1006,
Von-Melle-Park 5, 20146 Hamburg
[ Read on in German ]

Medienvertreterinnen und Medienvertreter sind herzlich eingeladen.
Im WISO-Forschungslabor können die Kinder Wirtschafts- und Sozialwissenschaft aus erster Hand kennenlernen und selbst erfahren wie Forschung an der Universität funktioniert. Die Kinder führen eine Telefonumfrage zum Thema Freizeit durch. Und sie untersuchen zusammen mit den Forscherinnen und Forschern das menschliche Verhalten. Diesmal geht es darum, wann Kinder mogeln: In einem Experiment gewinnen die Kinder Spielzeug-Preise. Je geschickter sie spielen, umso mehr Preise können sie später mit nach Hause nehmen.
Voraussetzung für die kostenlose Teilnahme ist ein Mindestalter von 8 Jahren. Eltern oder Begleitpersonen sind herzlich willkommen.
Alle "Maus-Fans", die teilnehmen möchten, müssen sich per E-Mail bis zum 2. Oktober 2015 anmelden unter: cati"AT"wiso.uni-hamburg.de.
Bitte das Alter der Kinder und die Anzahl der Begleitpersonen angeben.
Der Türöffner-Tag der Maus ist eine bundesweite Initiative des Westdeutschen Rundfunks (WDR), die Kindern Einblick in verschiedene Berufe geben soll. Er wurde anlässlich des "40. Maus-Geburtstages" am 10. Juli 2011 ins Leben gerufen.
p>Für Rückfragen:
Olaf Bock
Fakultät Wirtschafts- und Sozialwissenschaften
Leiter des Forschungslabors
Tel.: 040 42838-3759
Webseite: olaf.bock"AT"wiso.uni-hamburg.de