19 January 2015
University Winter Concert with star line-up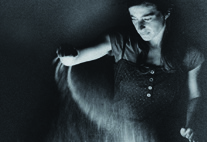 Photo: O. Reetz
Sand artist Anne Löper
The choirs and symphony orchestra of the University would like to extend a warm invitation to a very exceptional winter concert at Universität Hamburg:
Winter Concert at Universität Hamburg
Sunday, 1 Februar 2015, 8 pm
Grand Hall of the Laeiszhalle

Tickets (€18/€9 concession) are available online at
www.ADticket.de, via the hotline
0180-60 50 400, as well as all major ticket offices in Hamburg and the box office at the Laeiszhalle.


Die Besucherinnen und Besucher erwartet bei dem Konzert ein künstlerisches Highlight: Die Sandkünstlerin Anne Löper, in Hamburg bekannt durch die Show "Hamburg in Sand gemalt", visualisiert Antonin Dvořáks Oratorium "Die Geisterbraut op. 69" in Sandbildern. Das Werk wird mit deutschem Text aufgeführt, damit das Publikum – ohne Blick auf eine Übersetzung – dem musikalischen Geschehen und der Performance der Sandkünstlerin unmittelbar folgen kann.
Sinfonieorchester und Chöre der Universität unter Dirigent Thomas Posth haben sich für durchaus originelle Kost entschieden. Die Geisterbraut ist die Vertonung eines Schauermärchens und handelt von einem verwaisten Mädchen, das jahrelang auf den verschollenen Geliebten wartet. Als der schließlich als Höllenbräutigam wiederkehrt, zwingt er es zu einem nächtlichen Ritt zum Friedhof. Sie reiten vorbei an modrigen Sümpfen, umgeben von Irrlichtern und dem Heulen wilder Tiere.
Dvořák komponierte das Werk 1884 im Auftrag des "Birmingham Musical Festival 1885", brachte es aber bereits zuvor im März 1885 in Pilsen zur Uraufführung. Das heute selten gespielte, packende Oratorium fand – wie zeitgenössische Rezensionen belegen – sowohl in Dvořáks Heimat als auch in England euphorische Aufnahme. Durch die Partitur geistern dabei unter anderem der Erlkönig, der Waldschlucht-Kaspar, der Fliegende Holländer sowie Faust und Mephisto. Die Musik spiegelt einen Tumult aus Gefühlen zwischen Sehnsucht, Hoffnung, Verzweiflung, Grauen und Erleichterung wider.
Die Solopartien gestalten Ina Yoshikawa (Sopran), Martin Platz (Tenor), Jens Hamann (Bass-Bariton).
Nach dem Konzert laden Chöre und Orchester zu einem "after-show"-Teil. Die eigens für diesen Anlass von Fabian Russ komponierten Stücke (Arrangement Tim Jäkel) kombinieren elektronische Effekte, filmmusikalische Elemente sowie die unterschiedlichsten Stilmittel von Pop bis zu volksliedhaften Melodien, und entfalten so eine stimmungsvolle Klanglandschaft.
Additional links
---