22 September 2015
Reminder: Children's Uni Hamburg kicks off with the lecture \"Why do we sleep?\"—trailer online now!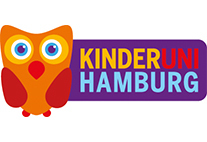 Photo: UHH
Logo Kinder-Uni Hamburg
After attending this lecture, bedtime will never have been easier: "Why Do We Sleep?" is the title of the first lecture at the Children's Uni Hamburg on Monday, 28 September 2015 at 5 pm. [ Read on in German]
In den übrigen fünf Veranstaltungen des Formats, das durch Sponsoren finanziert wird, beantworten Wissenschaftlerinnen und Wissenschaftler Fragen zu Tieren im Watt, Glücklichsein, Spinat in Gummibärchen, Hamburgs Stadtgeschichte und dazu, wie die Sonne von innen aussieht. Alle Vorlesungen richten sich an Kinder zwischen acht und zwölf Jahren und finden montags um 17 Uhr statt.
In diesem Jahr neu:
Auf der Internetseite der Kinder-Uni gibt es ab jetzt jede Woche Trailer für die Vorlesung der kommenden Woche. In den kurzen Filmen stellen die Dozentinnen und Dozenten ihre Themen vor. Die Vorschau für die erste Vorlesung finden Sie hier:
www.kinderuni-hamburg.de/2015/vorlesungsprogramm-2015.html
Die weiteren Filme folgen immer eine Woche vor der Veranstaltung. Die Vorlesungen dauern etwa 45 Minuten und sind kostenfrei. Eine Anmeldung ist nicht erforderlich, bei größeren Klassen oder Gruppen jedoch gern gesehen (unter: info@kinderuni-hamburg.de). Alle Kinder zwischen acht und zwölf Jahren dürfen an den Vorlesungen der Kinder-Uni Hamburg teilnehmen. Erwachsene Begleitpersonen können die Vorlesungen per Videoübertragung verfolgen. Der Veranstaltungsort befindet sich auf dem Campusgelände der Universität Hamburg (S-Bahn Dammtor, U-Bahn Hallerstraße, Metrobus 4/5): Audimax, Von-Melle-Park 4, 20146 Hamburg.
Die Hamburger Kinder-Uni ist ein Kooperationsprojekt der Universität Hamburg mit der Claussen-Simon-Stiftung, dem Kindermagazin "GEOlino", der ETV KiJu (gemeinnützige GmbH, Tochtergesellschaft des Eimsbütteler Turnverbandes e.V.) sowie den Hamburger Unternehmen Euler Hermes Deutschland und Jungheinrich AG. Die Kinder-Uni-Partner möchten mit ihrem Engagement Kindern der Grundschule und Sekundarstufe 1 die Faszination wissenschaftlicher Themen näher bringen.