15 September 2015
Invitation to the media:
Newly discovered treasure: Complete cast of gable sculpture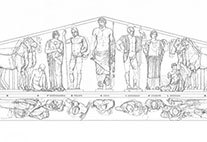 fried.jpg
After decades in storage, one of the world's rarest complete plaster cast of the gables of the Temple of Zeus at Olympia will be put on public display. The treasure will be exhibited on the Von-Melle-Park campus. [Read on in German]
Wissenschaftssenatorin Katharina Fegebank und Universitätspräsident Prof. Dieter Lenzen laden ein zur Wiederentdeckung des Kunstschatzes und einer Präsentation des möglichen künftigen Ortes am:
Montag, 21. September
um 10 Uhr
Campus Stellingen, Pavillion 4, Vogt-Kölln-Str. 30
ES GIBT VOM RATHAUS EINEN SHUTTLE-BUS. Senatorin Fegebank und Uni-Präsident Prof. Lenzen fahren mit.
Limitierte Anzahl von Plätzen. Gelegenheit für Foto- und Fernsehaufnahmen der Giebelskulpturen. Bitte verbindlich anmelden bis zum 16.09.15.
---