31 August 2015
Invitation to the media:
Opening of LOFAR station—part of the world's largest telescope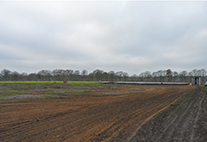 Photo: UHH/Brüggen
47th LOFAR Station
It is as big as a football field and is designed to view the first stars in the Universe: Universität Hamburg and Bielefeld University in cooperation with the Netherlands Institute for Radio Astronomy (ASTRON) have built the 47th Low Frequency Array (LOFAR) station—the largest digital radio telescope—in the town of Norderstedt, just outside of Hamburg. [ Read on in German ]

Medienvertreterinnen und -vertreter sind herzlich eingeladen zur feierlichen
Eröffnung der Internationalen LOFAR-Station
am Mittwoch, dem 9. September 2015, 11 Uhr
an der LOFAR-Station DE609, 22846 Norderstedt, Harthagen.
Um Anmeldung bis zum 7. September 2015 wird gebeten: sternwarte"AT"hs.uni-hamburg.de
Im Anschluss an die Besichtigung des LOFAR-Teleskops mit Prof. Dr. Marcus Brüggen, Universität Hamburg, und Prof. Dr. Dominik Schwarz, Universität Bielefeld, sind Sie herzlich eingeladen, ab 12.45 Uhr am Festakt im Feuerwehrmuseum Schleswig-Holstein, Friedrichsgaber Weg 290, 22846 Norderstedt teilzunehmen.
Als Gäste werden unter anderem erwartet: Dr. Martin Hecht (Kanzler der Universität Hamburg); Prof. Dr. Heinrich Graener (Dekan der Fakultät für Mathematik, Informatik und Naturwissenschaften der Universität Hamburg); Prof. Dr. Martin Egelhaaf (Prorektor für Forschung, wissenschaftlichen Nachwuchs und Transfer der Universität Bielefeld); Hans-Joachim Grote (Oberbürgermeister der Stadt Norderstedt); Prof. Dr. René Vermeulen (Leiter des Department Radio Observatory von ASTRON); Prof. Dr. Heino Falcke (Aufsichtsratsvorsitzender des International LOFAR Telescope) und Prof. Dr. Joris Verbiest (Fakultät für Physik der Universität Bielefeld).
Das Antennenfeld am Harthagen in Norderstedt ist die sechste deutsche LOFAR-Station und seit 2015 in Betrieb. Sie ist Teil des internationalen LOFAR-Teleskops, das zum Ende des Jahres aus insgesamt 50 Antennenfeldern bestehen wird, die sich auf sechs europäische Länder verteilen. LOFAR empfängt Signale, die zum Beispiel von Sternen oder Galaxien in Form von Radiowellen ausgehen und viele Milliarden Jahre alt sein können. Die Signale der einzelnen Stationen werden von einem Supercomputer in den Niederlanden verarbeitet und zu einem Himmelsbild zusammengesetzt. Das Teleskop in Norderstedt trägt dazu bei, dass selbst von extrem weit entfernten Galaxien scharfe Bilder produziert werden können. Ziel ist unter anderem, die ersten Sterne im Universum aufzuspüren, Gravitationswellen zu entdecken und magnetische Felder im Kosmos zu vermessen.
LOFAR wird von der Hamburger Sternwarte der Universität Hamburg und der Bielefelder Fakultät für Physik betrieben. Die Kosten werden vom Bundesministerium für Bildung und Forschung sowie der Freien und Hansestadt Hamburg und dem Bundesland Nordrhein-Westfalen getragen.
---