19 June 2015
The University Players to perform One Flew Over the Cuckoo's Nest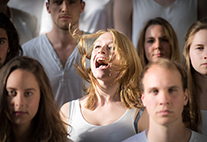 Photo: G2 Baraniak
Actors from University Players
To celebrate their 35th anniversary, the University Players will be performing Dale Wasserman's stage adaptation of the Ken Kesey novel One Flew Over the Cuckoo's Nest. The production will be performed in English. Read on in German...
One Flew Over the Cuckoo's Nest
am 26., 29., 30. Juni und am 2., 4., 5., 6., 7., 9., 11. Juli 2015 jeweils um 19.30 Uhr im Audimax, Von-Melle-Park 4. Karten (12 Euro; ermäßigt 6 Euro) sind erhältlich unter Tel.: 040 428 38-4852 oder per E-Mail: up@uni-hamburg.de Schülergruppen ab 10 Personen: 5 Euro (eine Begleitperson frei) Die University Players bieten auf Anfrage vorbereitende Unterrichtsbesuche an.

Weitere Informationen: www.universityplayers.de
Aus der Zwangsjacke des 1960er-Jahre-Kontextes befreit, verzichtet die Inszenierung auf die Mauern der Anstalt. Die einzigen Gitter bietet das selbstauferlegte Regelsystem der Insassen und Angestellten, das sich über die Jahre hinweg verselbstständigt und sein ursprüngliches Ziel aus den Augen verloren hat – ein altbekanntes, gefährliches Muster, das uns immer wieder begegnet.

Randle McMurphy, verurteilt wegen Verführung einer Minderjährigen, hat nicht vor, seine Strafe im Gefängnis abzusitzen. Also gibt er eine geistige Störung vor, die in einer psychiatrischen Anstalt überprüft werden soll. Als anti-autoritärer Außenseiter rebelliert er gegen die Routine der Anstalt und die machtbesessene Oberschwester Ratchet und zieht dabei die Bewunderung der anderen Insassen auf sich. Medikamente, Gruppentherapie, Elektroschocks – für McMurphy wird alles zum Teil eines Spiels. Allerdings bemerkt er nicht, dass der letztmögliche Zeitpunkt zum Aussteigen schon hinter ihm liegt.

Die University Players sind ein studentischer, englischsprachiger Theater-Workshop, der 1980 von Prof. Dietrich Schwanitz am englischen Seminar der Universität Hamburg (heute Institut für Anglistik und Amerikanistik) gegründet wurde.
Für Rückfragen:
Svenja Baumann
Produktionsleitung University Players
Theatre Workshop des Instituts für Anglistik und Amerikanistik
Tel.: 040 428 38-4852
E-Mail: up"AT"uni-hamburg.de