10 April 2015
Health sciences programs at Universität Hamburg to continue
Courses in 2015 summer semester available according to schedule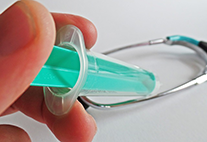 Jemand hält eine Spritze, im Hintergrund ist ein Stethoskop zu sehen.
Due to an unauthorized letter from a professor in the health sciences to teaching students at the beginning of the semester, students were led to believe that they would be unable to continue their studies according to their program schedules in the 2015 summer semester. Universität Hamburg resolutely refutes said professor's claim. Indeed the impending cancelation of courses in the health sciences was successfully averted through the intervention of the vice-dean of the Faculty of Mathematics, Informatics and Natural Sciences, Prof. Dr.-Ing. Norbert Ritter, as well as of the University president, Prof. Dr. Dieter Lenzen, who both managed to organize replacement academic staff to deliver the four courses threatened by cancelation. Teaching students in the health sciences are now able to continue with their studies in the summer semester without any delays to their study schedules. [Read on in German]

Die Universität kann sich des Eindrucks nicht erwehren, dass Ausstattungsfragen einer Professur auf dem Rücken der Studierenden ausgetragen werden sollten. Die Aktivität einer Hochschullehrerin hat zu einer völlig unangemessenen Verunsicherung von Studierenden geführt und war geeignet, eine Beschädigung des Ansehens der Hamburger Lehrerbildung in der Öffentlichkeit herbeizuführen. Die Qualität der Berufsschullehrerausbildung im Studiengang Gesundheitswissenschaften ist davon in keiner Weise betroffen.
Prof. Dr. Dieter Lenzen, Präsident der Universität Hamburg: "Ich freue mich, dass es gemeinsam mit Prodekan Ritter gelungen ist, die Fortsetzung des Studiums im Sommersemester im Studiengang Gesundheitswissenschaften sicherzustellen."