2 April 2015
New head for Center for Teacher Training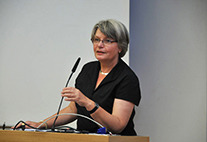 Photo: UHH/ Lohmann
Prof. Dr. Eva Arnold
Prof. Dr. Eva Arnold is the new head of the Center for Teacher Training (Zentrum für Lehrerbildung, ZLH) at Universität Hamburg. The ZLH coordinates teacher training at all institutions in Hamburg. It advises, identifies requirements for further development of teacher training, and makes recommendations. It guides development throughout the entirety of teacher training, from university studies through first career steps to advanced training for teachers. Read on in German....
Das Präsidium der Universität hat Frau Arnold mit der Wahrnehmung dieser Aufgabe beauftragt, da sie über langjährige Erfahrung und eine breite Expertise im Bereich der Lehrerbildung verfügt. Zudem ist Frau Arnold maßgeblich daran beteiligt, dass die Universität Hamburg bei der "Qualitätsoffensive Lehrerbildung" erfolgreich war und sich gegen eine Vielzahl von Anträgen durchsetzen konnte. Mit der Amtsübernahme löst sie Prof. Dr. Reiner Lehberger ab. Gleichzeitig bleibt sie Dekanin der Fakultät für Erziehungswissenschaft.
Die Vizepräsidentin für Studium und Lehre der Universität Hamburg, Prof. Dr. Susanne Rupp: "Ich bin davon überzeugt, dass wir mit Frau Arnold eine Leitungspersönlichkeit gewonnen zu haben, die bestens für die anstehenden Aufgaben qualifiziert ist und ich freue mich auf eine gute und erfolgreiche Zusammenarbeit".
Additional links