18 March 2015
Doctoral student at Universität Hamburg to take part in Lindau Nobel Laueate Meeting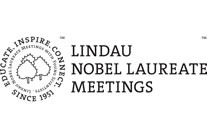 Photo: Lindau Nobel Laureate Meetings
Logo Lindau Nobel Laureate Meetings
Antonia Karamatskou, doctoral student with Prof. Dr. Robin Santra from the Institute for Theoretical Physics at Universität Hamburg and DESY, will take part this year in the Lindau Nobel Laureate Meeting. Read on in German...

Die Nachwuchsforscherin gehört zum Sonderforschungsbereich (SFB) 925 "Lichtinduzierte Dynamik und Kontrolle korrelierter Quantensysteme" und arbeitet am Center for Free-Electron Laser Science (CFEL). Sie wurde in einem mehrstufigen Verfahren aus etlichen hundert internationalen Bewerberinnen und Bewerbern für die Teilnahme an der Nobelpreisträgertagung ausgewählt.
Bei der Lindauer Nobelpreisträgertagung (Lindau Nobel Laureate Meeting) treffen in diesem Jahr vom 26. Juni bis 3. Juli besonders qualifizierte Nachwuchswissenschaftlerinnen und -wissenschaftler aus aller Welt mit Nobelpreisträgerinnen und -trägern zusammen. Ziel ist der wissenschaftliche Austausch sowie der Aufbau von Netzwerken. Die Tagung wurde 1951 als europäische Initiative der Aussöhnung nach dem Zweiten Weltkrieg ins Leben gerufen und findet 2015 zum 65. Mal statt. Themen sind die naturwissenschaftlichen Nobelpreisdisziplinen Chemie, Medizin und Physik.
Antonia Karamatskou forscht auf dem Gebiet der Wechselwirkung von Atomen mit intensivem Licht (von sichtbarem Licht bis Röntgenstrahlung). Durch die Bestrahlung setzen die Atome Elektronen frei, sie werden ionisiert. Die Wissenschaftlerin berechnet dabei beispielsweise, mit welchen Energien und in welche Raumrichtungen diese Elektronen ausgesendet werden. Die Physikerin konnte dazu beitragen, in der Elektronenhülle des Xenon-Atoms neue, bisher unbeobachtete quantenmechanische Eigenschaften nachzuweisen. Die Erforschung solcher Eigenschaften kann helfen, lichtinduzierte Phänomene in komplexeren Systemen besser zu verstehen und neue Möglichkeiten bei der Entwicklung von Materialien zu entdecken, die Anwendung in der Photonik und der Nanowissenschaft finden.
Additional links
---