8 January 2015
World Hobbit Research Project:
Seeking participants for Hobbit online survey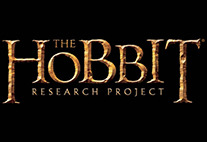 Photo: www.worldhobbitproject.org
Logo World Hobbit Research Project
The World Hobbit Research Project, the world's largest research project on media perception, seeks 50,000 Hobbit watchers for an online survey analyzing how the movie series is perceived. Read on in German... An dem Forschungsvorhaben sind Wissenschaftlerinnen und Wissenschaftler aus 46 Ländern beteiligt, in Deutschland das Institut für Medien und Kommunikation der Universität Hamburg und das Hans-Bredow-Institut für Medienforschung.
Menschen, die die Hobbit-Filme gesehen haben, können mittels Fragebögen darstellen, wie sie die Filme wahrgenommen und erlebt haben unter www.worldhobbitproject.org.
Die Befragung ist offen und bietet den Teilnehmerinnen und Teilnehmern Raum, ihre persönliche Hobbit-Erfahrung mitzuteilen. Das Ausfüllen des Fragebogens dauert etwa 15-20 Minuten. Die Befragung ist vollständig anonym, und die Daten werden nach den strengen Regeln des Datenschutzes, die für universitäre Forschung gelten, vertraulich behandelt. Die wichtigsten Ergebnisse der Studie werden, entsprechend einer Kultur der wissenschaftlichen Transparenz, auf der Webseite des Projektes direkt der Öffentlichkeit zugänglich gemacht.
Der weltweite Erfolg der Hobbit-Filme wirft für die Medienforschung viele Fragen auf: Was fasziniert die Menschen in aller Welt an diesen Geschichten und an der Art, wie sie verfilmt wurden? Wie unterscheiden sich verschiedene Gruppen darin, wie sie die Filme wahrnehmen und was sie an ihnen faszinierend, bewegend oder auch enttäuschend finden? Und welche Unterschiede zeigen sich zwischen den verschiedenen Ländern?
Für Rückfragen:
Prof. Dr. Uwe Hasebrink/ Dr. (des.) Lars Schmeink
Universität Hamburg
Institut für Medien und Kommunikation
Tel.: 040 42838-7166
E-Mail: lars.schmeink"AT"uni-hamburg.de
Additional links