28 January 2015
Talk
President of European Court of Justice to speak about Greek-German academic relations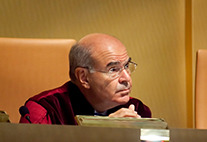 Photo: Gerichtshof der Europäischen Union
Vassilios Skouris
Prof. Dr. Vassilios Skouris, president of the European Court of Justice (ECJ), will be giving a talk on Greek-German relations in academia at a conference on Greek-German academic cooperation.
"Die Beziehungen der deutschen und griechischen Wissenschaft: Eine Bestandsaufnahme"

Thursday, 5 February 2015, 2:30 pm
Main Building, Agathe Lasch Lecture Hall (Lecture Hall B), Edmund-Siemers-Allee 1, 20146 Hamburg.
The public is cordially invited to attend.

Read on in German...

Prof. Dr. Skouris hat 1973 an der Fakultät für Rechtswissenschaft der Universität Hamburg seine Doktorwürde mit einer Dissertation zum Thema "Die Teilnichtigkeit von Gesetzen" erlangt. Danach hat er Professuren an Universitäten in Deutschland und Griechenland angenommen. In seinem Heimatland Griechenland war er unter anderem Innenminister in den Übergangsregierungen von 1989 und 1996. Seit 1999 ist er Richter am Europäischen Gerichtshof und dort seit 2003 Präsident.