14 October 2014
Enrollment ceremony with Karin Beier
Enrollment ceremony with Karin Beier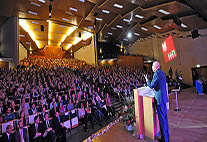 Photo: C. Stelling
Immatrikulationsfeier im Audimax mit Präsident Prof. Dr. Dieter Lenzen
Roughly 1,000 first-year students and their families will be officially welcomed in the Audimax on 15 October 2014. Prof. Dr. Dieter Lenzen, president of Universität Hamburg, and Prof. Dr. Kerstin Poehls, professor for European ethnology and cultural anthropology, will host the festivities. Read on in German...

Prominenter Gast ist Karin Beier, Intendantin des Deutschen Schauspielhauses in Hamburg, die im Interview mit SPIEGEL-Journalist Wolfgang Höbel aus ihrer Studienzeit und von den aktuellen Herausforderungen im Kulturbetrieb berichten wird.

Im Rahmen der Immatrikulationsfeier wird auch der mit 1.000 Euro dotierte Preis des Deutschen Akademischen Austauschdienstes (DAAD) für hervorragende ausländische Studierende vergeben. Hannah Tvede aus Dänemark erhält in diesem Jahr die Auszeichnung für ihre hervorragenden wissenschaftlichen Leistungen im Fach Volkskunde und Kulturanthropologie und aufgrund ihres gesellschaftlichen und kulturellen Engagements im Fachbereich.

An diesem Abend wird Präsident Lenzen auch das Startsignal für die Kampagne "Heimathafen Hamburg" geben, die in den folgenden Wochen ausgewählte Gebäude der Universität Hamburg zum Leuchten bringen wird.

Die Feier im Audimax der Universität Hamburg beginnt um 18.00 Uhr. Gleichzeitig präsentieren sich wieder viele universitäre und außeruniversitäre Einrichtungen in einer kleinen Informationsmesse im Foyer des Gebäudes. Medienschaffende sind herzlich willkommen.
Für Rückfragen:
Christiane Kuhrt
Universität Hamburg
Referentin des Präsidenten für Presse- und Öffentlichkeitsarbeit
Tel.: 040 42838-1804
E-Mail: Christiane.Kuhrt"AT"uni-hamburg.de